20 Aesthetic Colour Palettes To Rock Your Design
Aesthetic colour palettes are harmonious, eye-pleasing colour selections that can breathe life into any type of design—websites, social posts, living spaces, you name it. The colour combinations can be analogous hues that have been plucked from one small section of the rainbow, or drastically different, brightly contrasting hues that really shouldn't work together, but somehow do.
Here is our selection of 20 aesthetic colour schemes that can be used for your design project, including examples from websites, social platforms, advertisements, and more.
Aesthetic colour palettes (harmonious colours) for your design project
The colours included in these aesthetic colour palettes can be used in pretty much any type of design you like, as primary colours, secondary colours, or accent colours. Just pay attention to how they've used each colour in the examples, which should serve as a useful guide on how to use them for your own project.
The hex colour code is listed for each colour palette, which allows you to use it directly in design software like Photoshop or Illustrator. If you'd like to convert it to another format like RGB, HSL, or CMYK, you can do so using this handy converter.
1. You may kiss the bride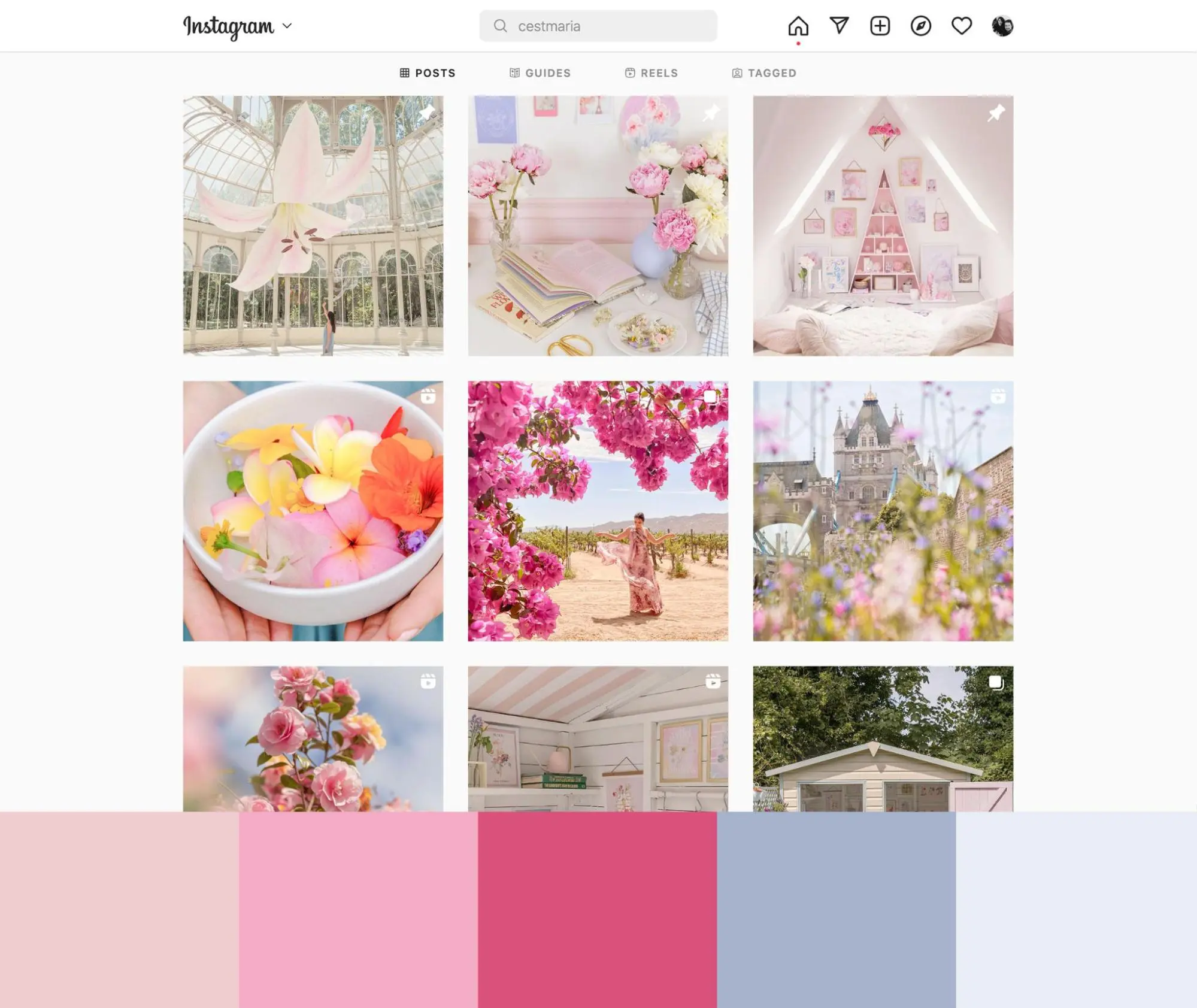 Hex colour codes: #EFCDCE, #F4ABC6, #DA517B, #A8B3CD, #E9EEF4
This Mexican-born artist has a distinctly feminine style, focusing on flowers that run from pink to orange to yellow. The colours she captures in her photographs are incredibly inviting, and the kind of shades you might expect to see at a wedding, where love and connection are the themes of the day. We can pick out three regular shades of pink, a hydrangea grey/blue, and a cloud grey which usually serves as the background. The effect is gorgeously delicate.
2. Vincent Van Oh!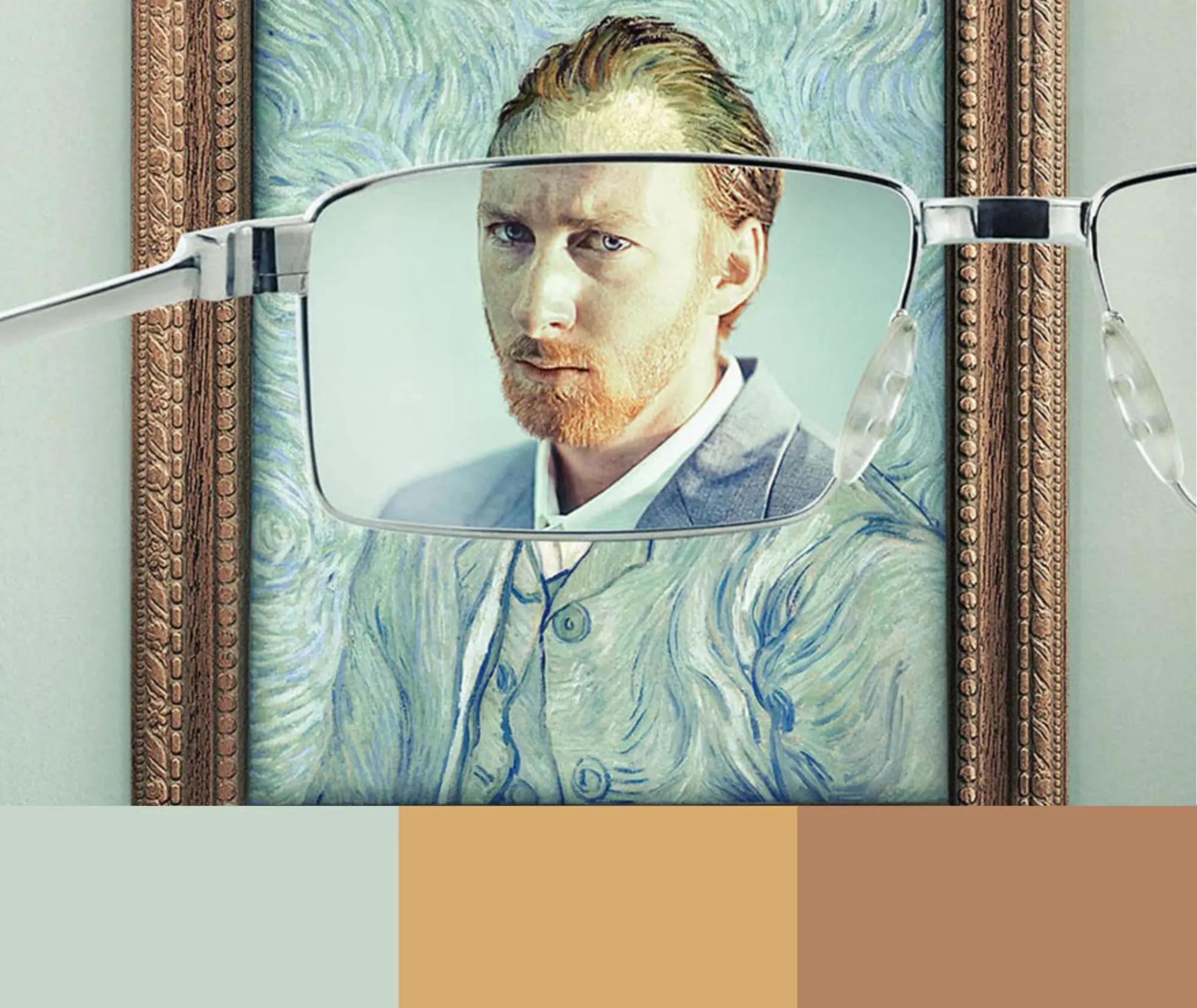 Hex colour codes: #C7D6C9, #D8AA71, #B28462
Vincent Van Gogh tended to use a small selection of analogous colours in his art, and his self-portrait was no exception. There's a variety of pistachio green/blues, and two shades of orange and brown found in the artist's hair and beard, as well as from the art's frame itself. Another extremely simple colour palette that looks gorgeous, and might elicit feelings of calm composure.
3. Classy blue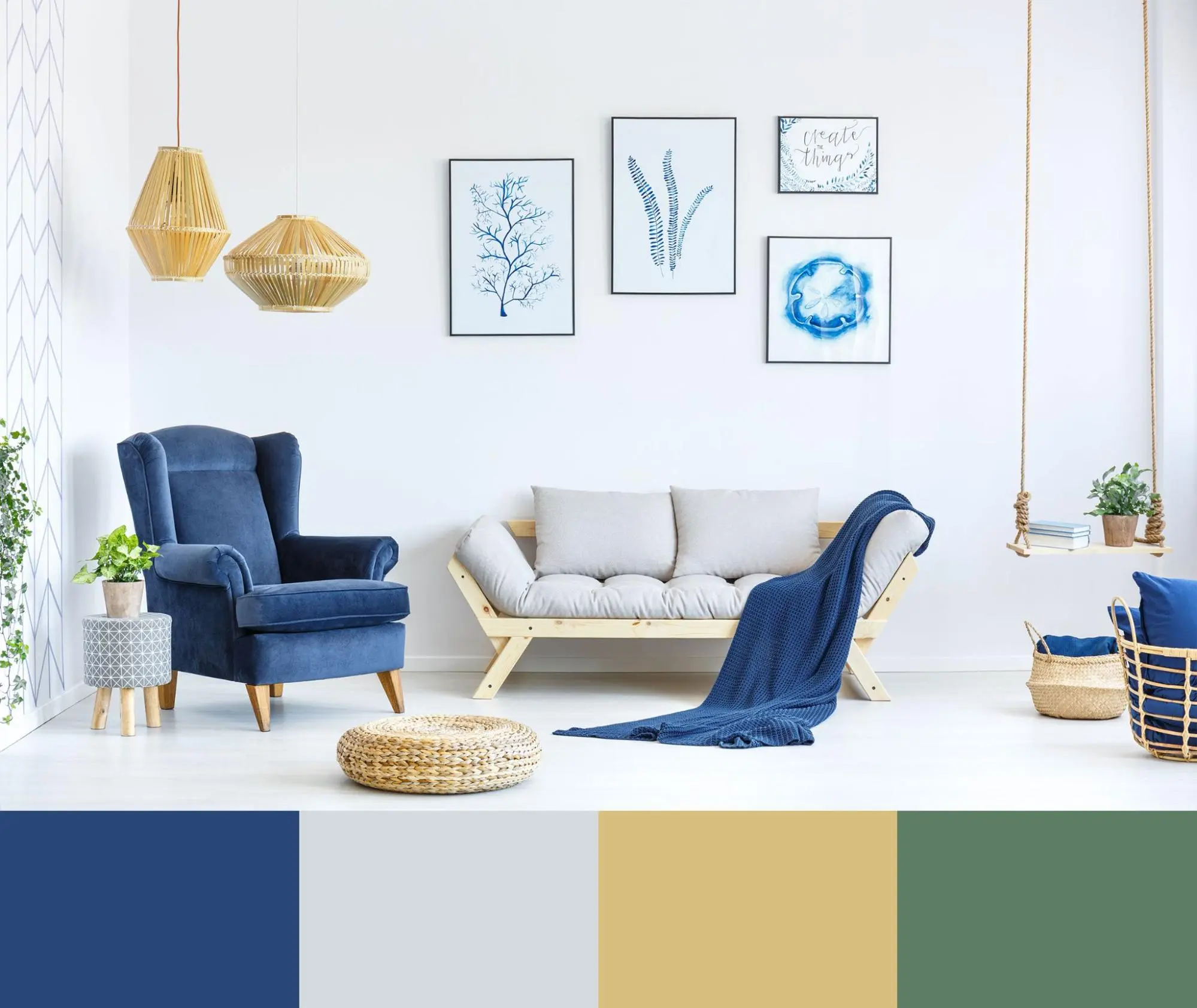 Hex colour codes: #284776, #D5DADE, #D8BF7F, #5D7D65
This is another example of a bold colour scheme, but because only a single colour is used as the focus (the blue), it feels classy and understated. You could certainly introduce more of the gold or green into the design but it might not have the same impact. This collection of colours could be used effectively across any digital medium: websites, adverts, you name it. It's a gorgeous selection of hues that convey elegance and class, even opulence.
4. Calm and collected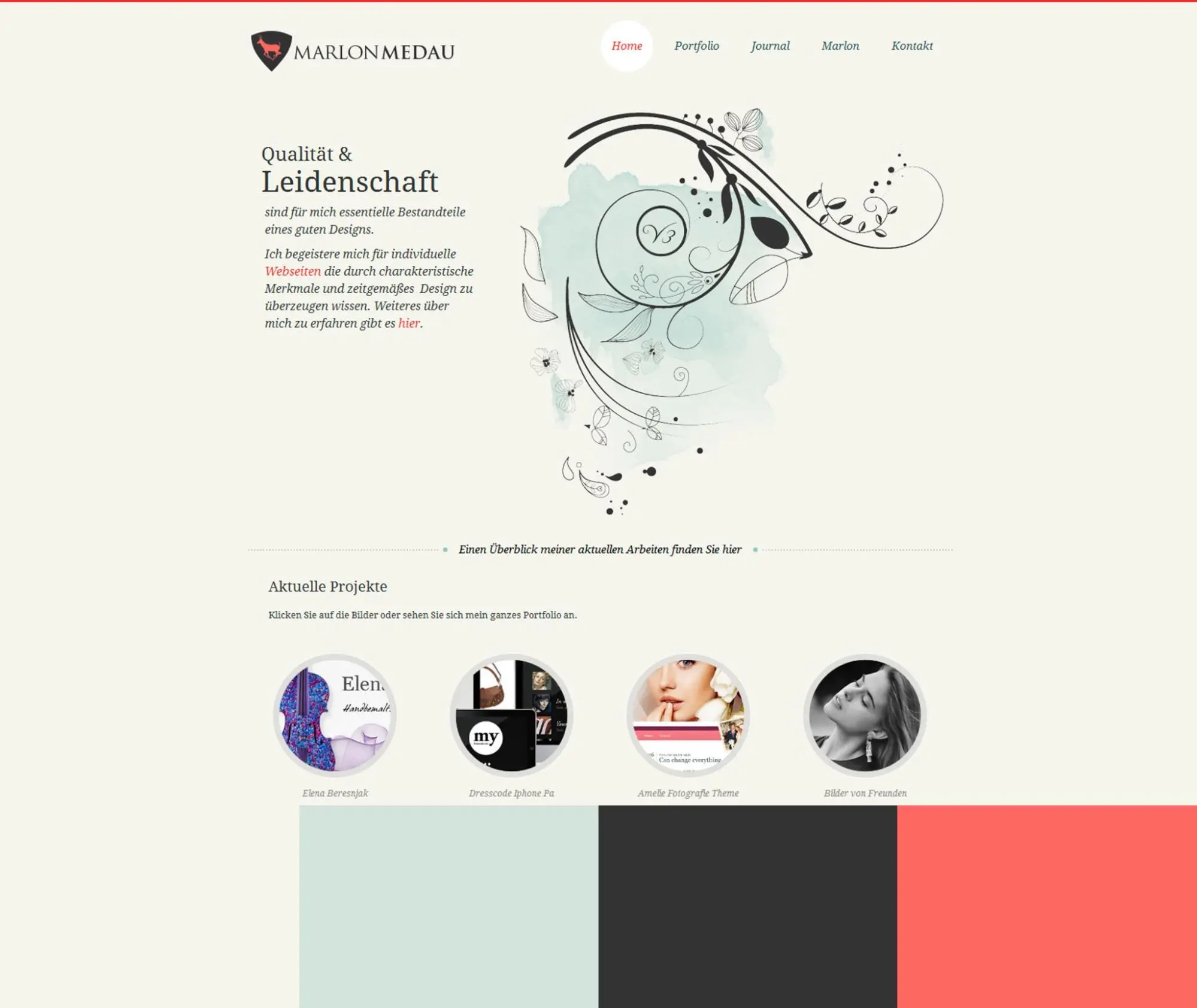 Hex colour codes: #F5F5ED, #D3E4DC, #333333, #FD6761
This soft website design from German designer Marlon Medau uses four simple colours, most of which are highly contrasting. The primary background colour is a warm grey with subtle yellow undertones, with the remaining blues, reds, and blacks all working as accent colours, and used through the site's graphics and text. It creates a sophisticated, almost-feminine look that oozes professionalism. A festive red serves as the main call-to-action colour, which easily catches the eye.
5. I love the land and the land loves me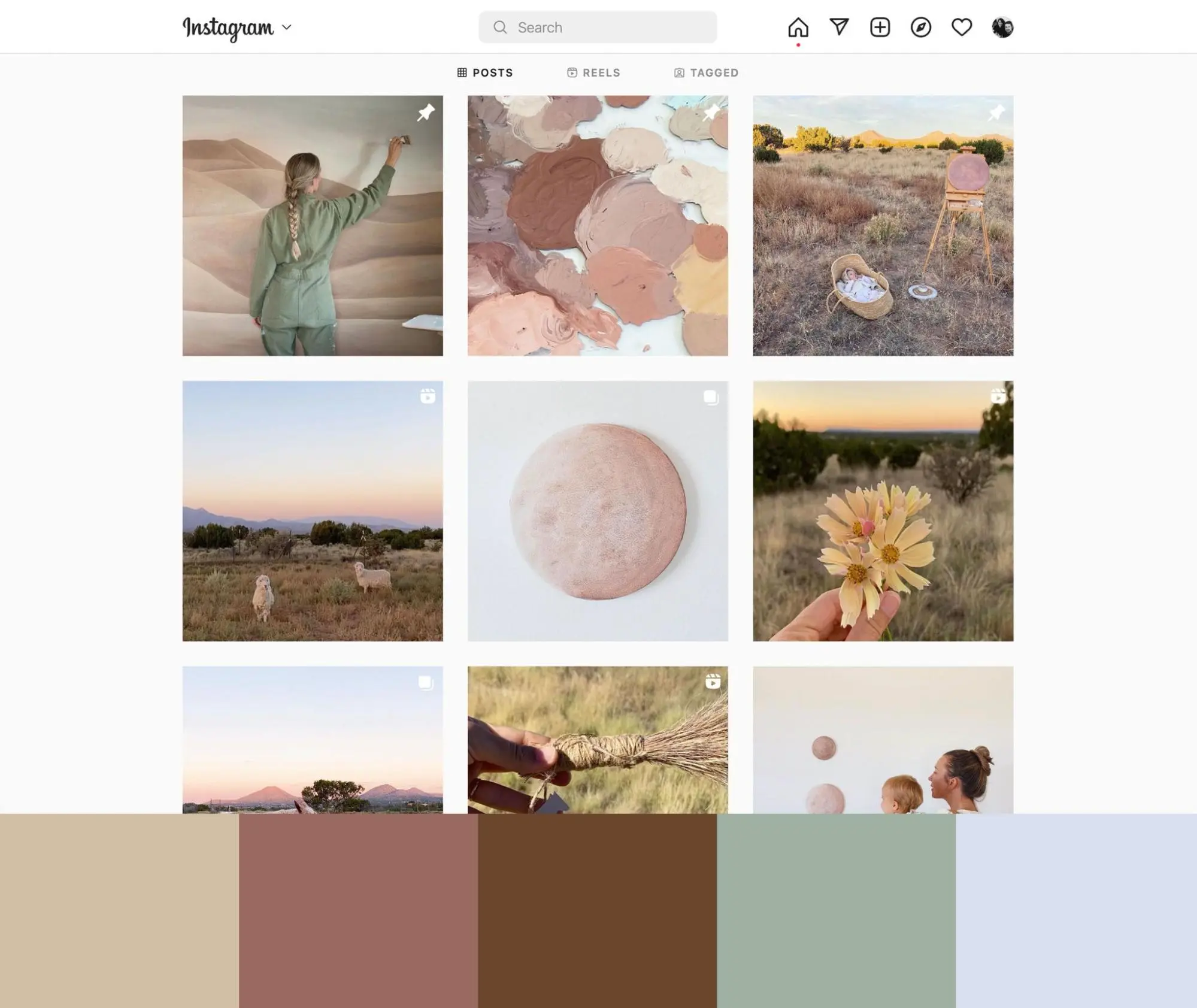 Hex colour codes: #D2BEA5, #996A60, #6A462B, #9EAFA2, #D9DFEF
Harmonious colour palettes that use lots of browns and greens are usually described as "earthy," and this is definitely the case in the Instagram feed above. The artist uses nature as her muse, which creates a selection of analogous browns: tortilla, tawny, and carob, along with an almost-pistachio green, and a stone-like blue that is drawn from the sky. This scheme might be perfect for a natural food brand, or some other company that is associated with earthy goodness.
6. Frans Hals Museum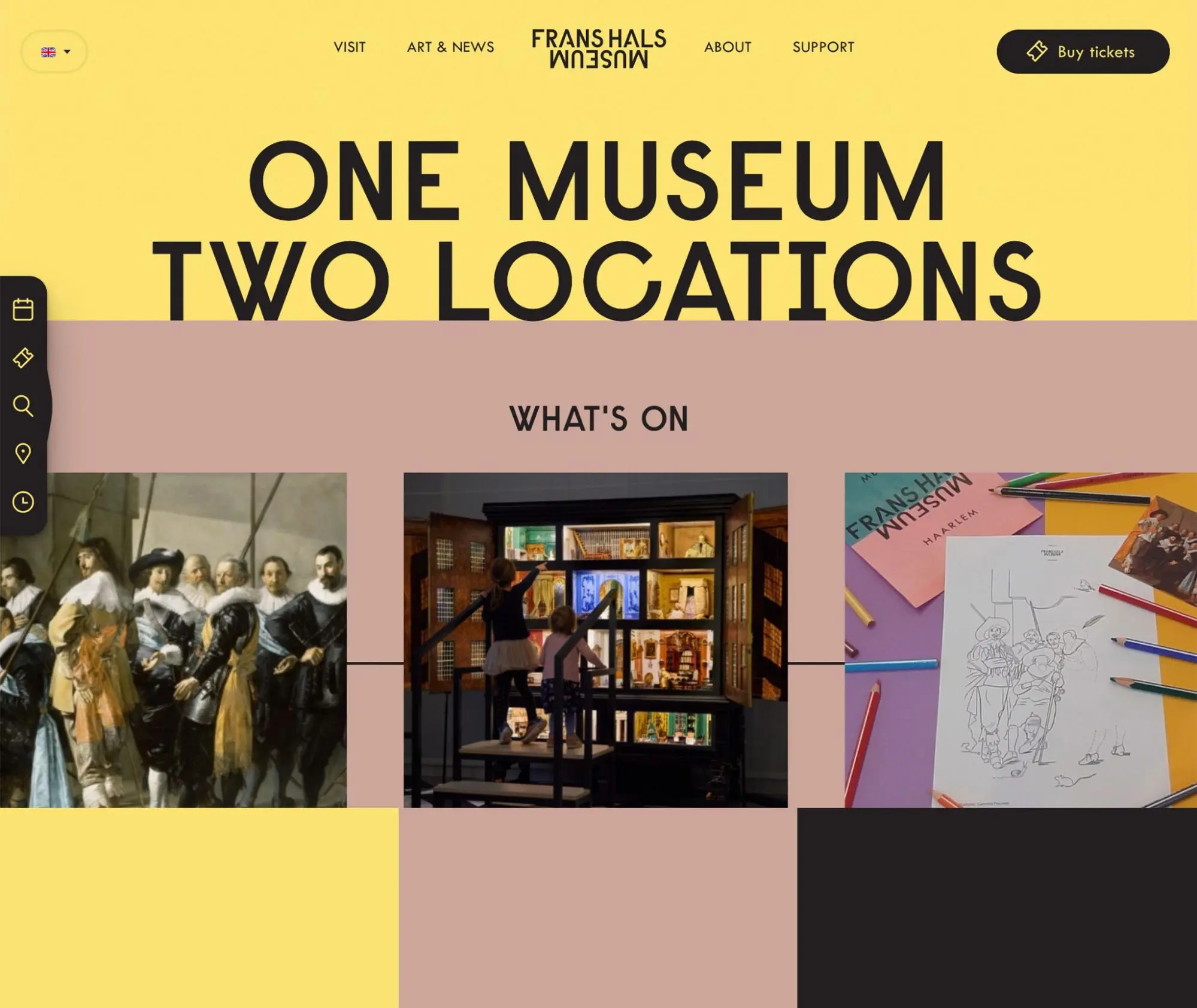 Hex colour codes: #FAE372, #CCA59B, #231F20
The colours used in this website are understated, but used in a way that makes them decidedly bold. You can see large blocks of macaroon yellow and a washed-out sand brown, which make up the backgrounds of the website. Other content such as copy and CTAs use a stark black, bringing them directly into the foreground. This bumblebee-like colour scheme might not be the first choice for a museum, but in this example, it unquestionably works.
7. Oceans and jungles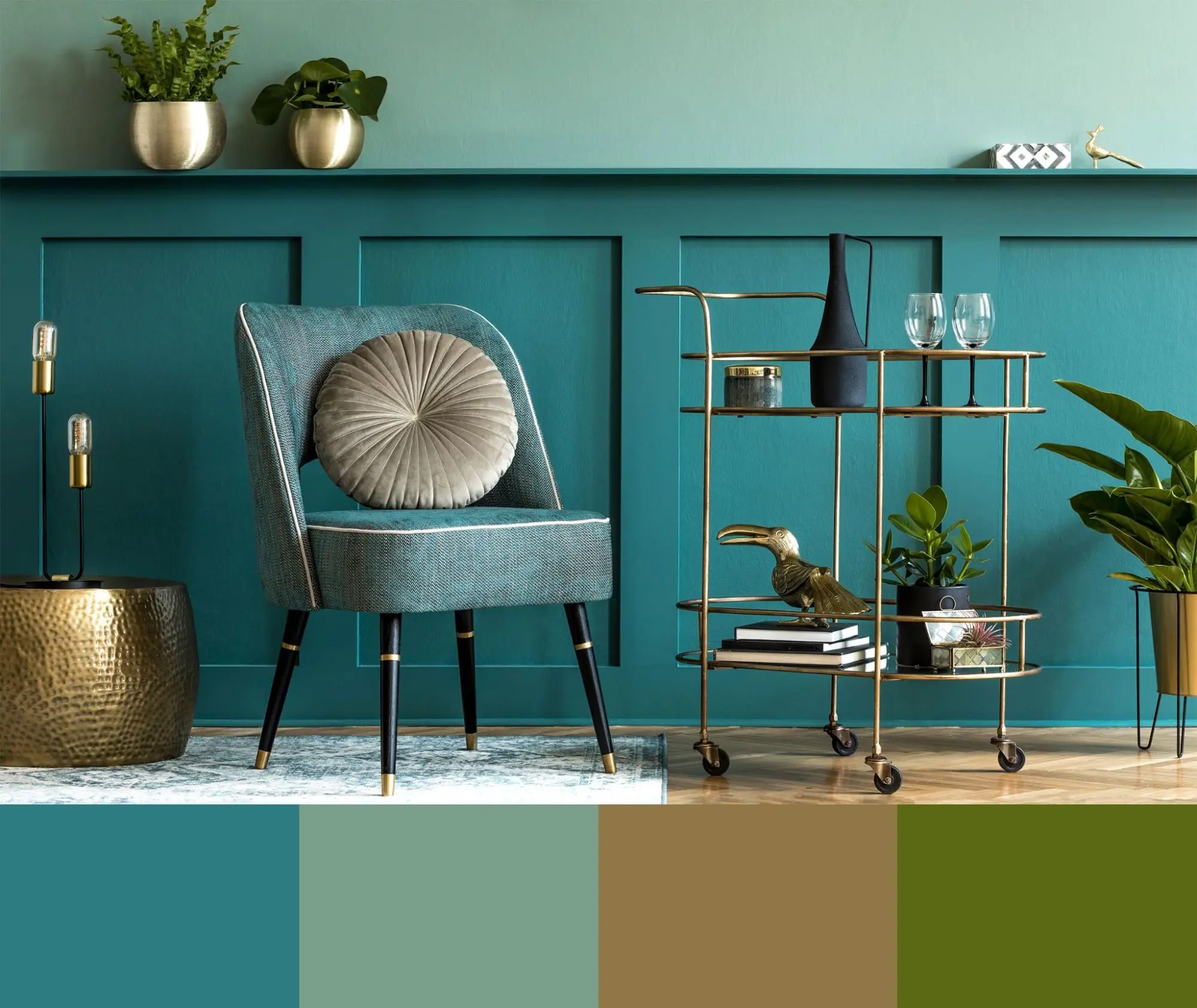 Hex colour codes: #2D7C81, #7A9D8C, #8F7846, #5A6914
This design is based on two sets of analogous colours: a tranquil teal and cadet blue, along with a moss green and tortilla brown. These are colours that you might expect to see on a jungle-backed Brazililian beach a couple of hours after sunset. When used in a design, these natural plant and sea colours can evoke feelings of tranquillity; that everything is going to be alright after all. They could work well for a brand that is aiming for this kind of feeling.
8. Overflow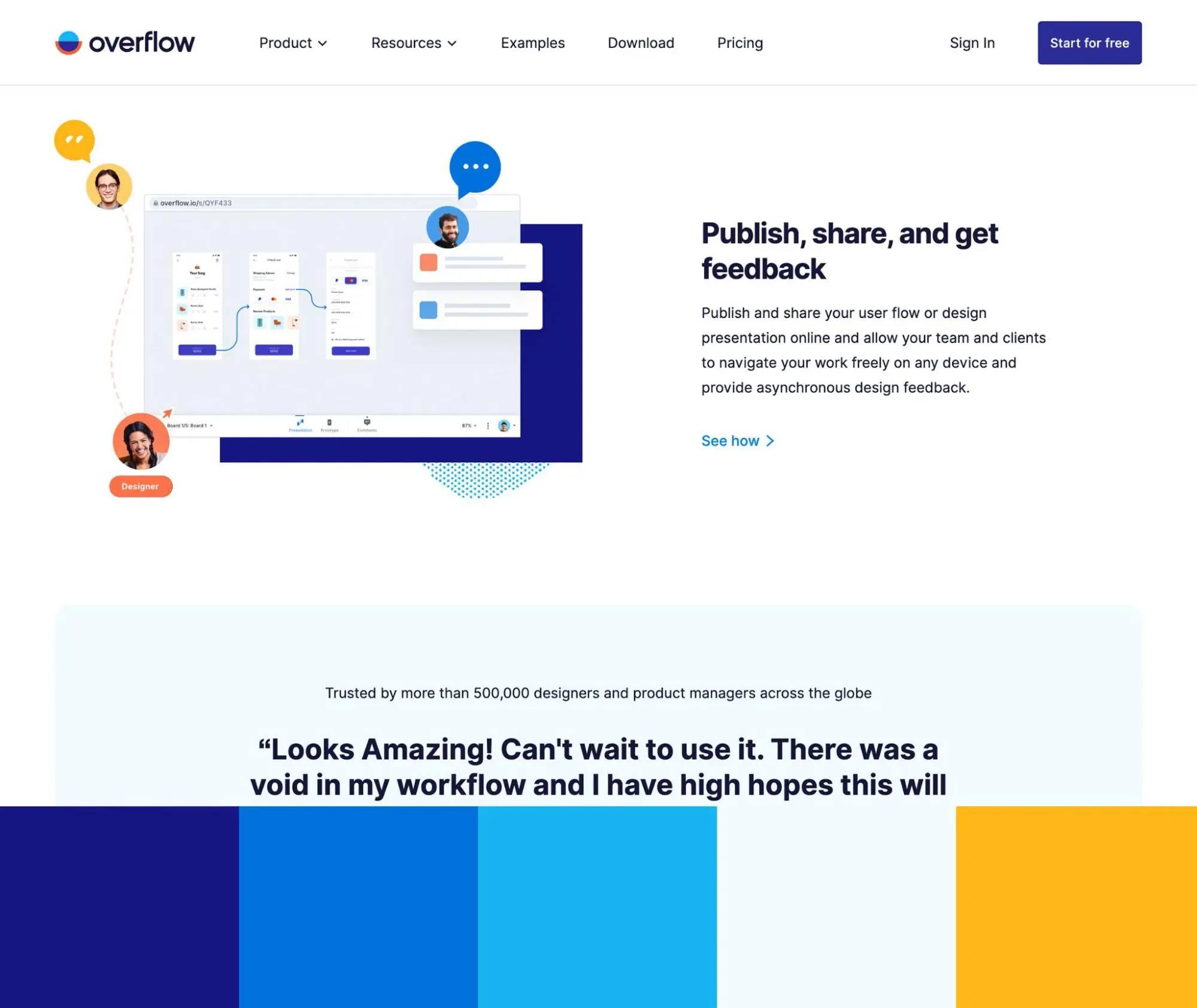 Hex colour codes: #161582, #0071DB, #16B4F1, #F2FBFF, #FFB81A
Another first-class example of a minimalist website with a sparse colour palette. The selection of blues are used to demarcate unique sections across its pages and call your attention to buttons that should be pushed, while the yellow is used for accents in its various images. The palette itself seems like it could be lifted directly from the seaside, if the seaside in question were cartoonishly bright. In any case, it works extremely well for this brand.
9. Snug as a bug in a rug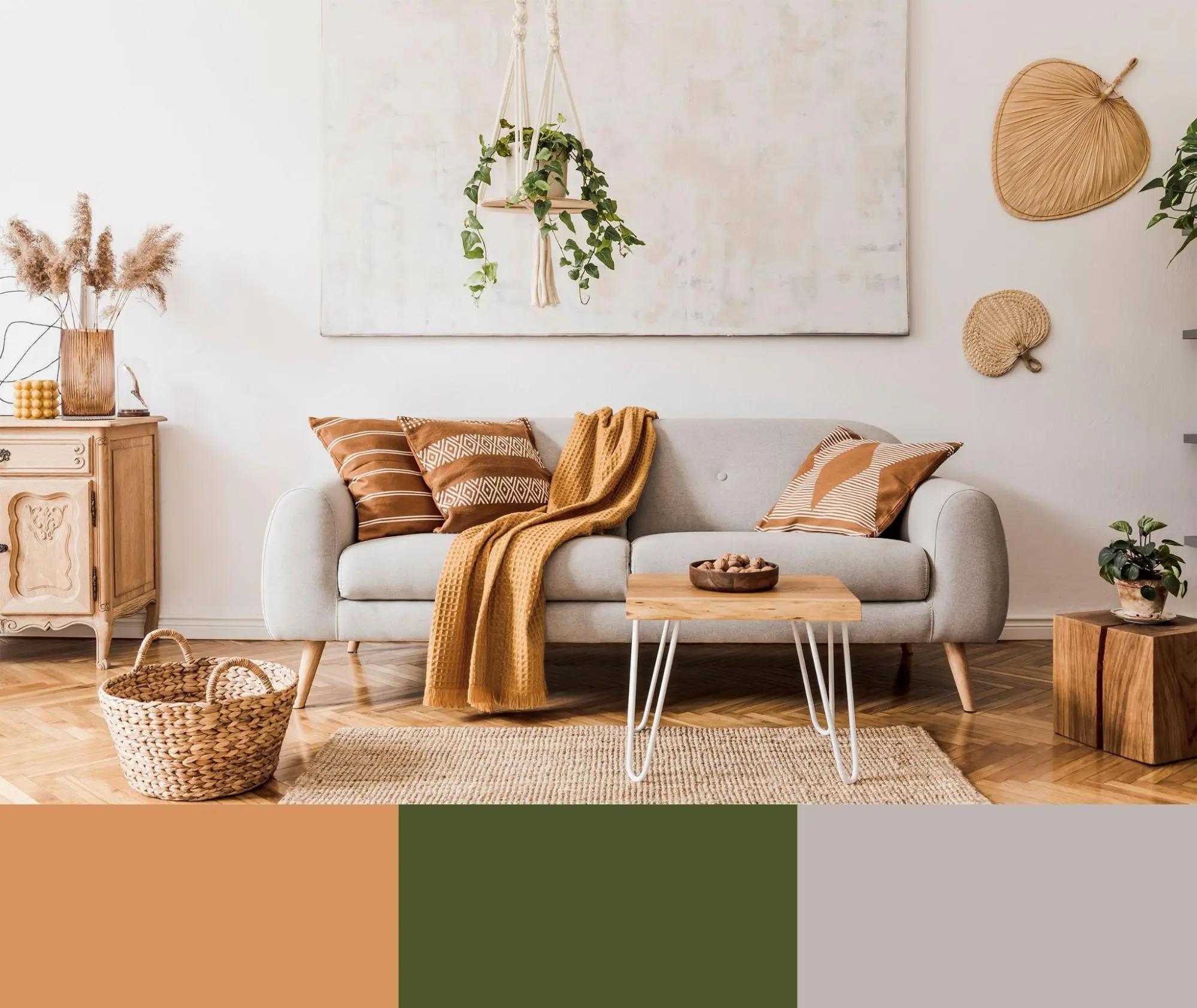 Hex colour codes: #D6935E, #4C552A, #BEB6B3
This gorgeous living area is based on just three colours: a warm biscuit-brown for the flooring, furniture, baskets, and sofa additions, a mouse grey for the walls, couch, and painting, and a touch of cadmium green from the plants. There are countless variations on these three colours throughout the room, which could work just as well for digital designs as for physical areas, if you wanted to achieve a serene, cozy feel.
10. Bold & feminine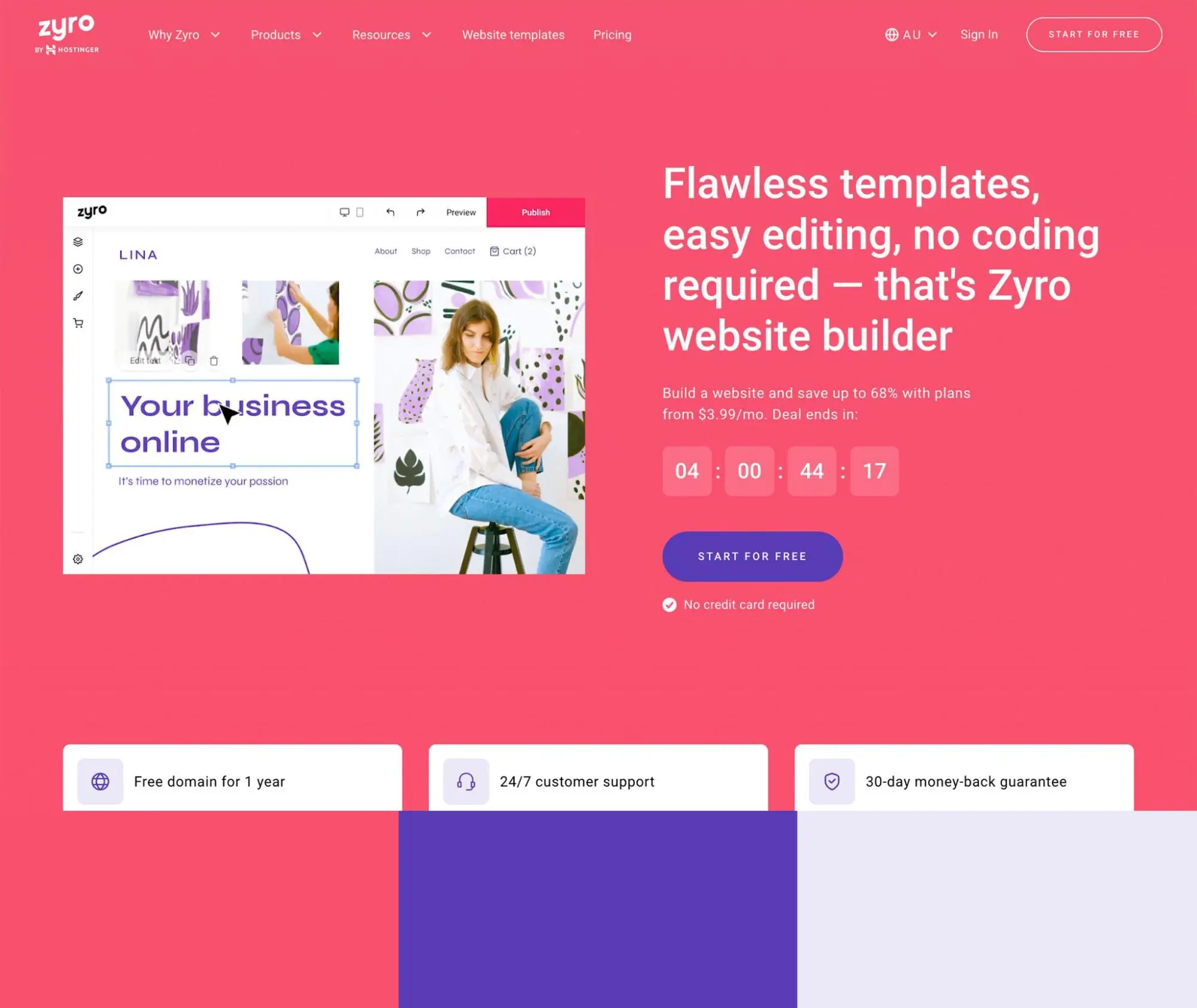 Hex colour codes: #F9506F, #583CB5, #EBE9F7
This spirited colour scheme uses a radiant pink as its base, which comprises the entire background of the website to reinforce the company's branding. Pink is commonly associated with femininity, love, and kindness, which for a user, may make the site almost feel approachable, perhaps more likely to come across as honest and true.
Aside from the pink, just two other colours are used: a highly contrasting violet purple for the site's call to actions, which easily catches the eye among the sea of pink, and a extremely light grey for the copy and icons. It's uncomplicated but extremely effective, demonstrating that you don't need to have a 5-hue colour palette for a website to look great.
11. Quiver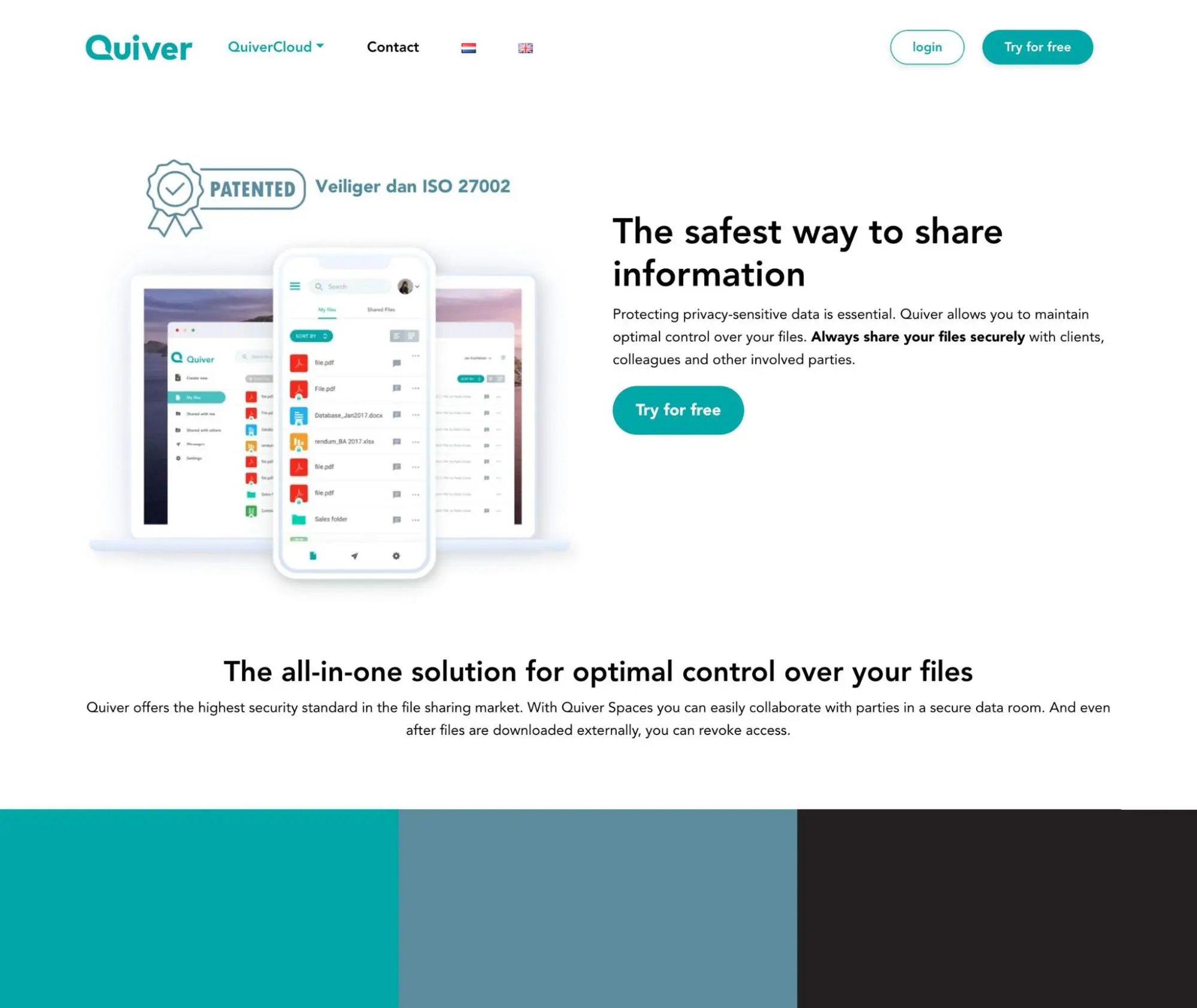 Hex colour codes: #04A7A7, #5B8C9D, #231F20
This ultra-clean minimalist website uses just a small handful of colours to highlight CTA buttons and key areas of the page—a cool and collected teal, and a rarer blue/grey. All other colours are found throughout the images used on the website, and because of their scarcity, they really stand out on the page. This is an excellent example of an aesthetic colour palette that adheres to minimal graphic design principles.
12. Extreme fruit salad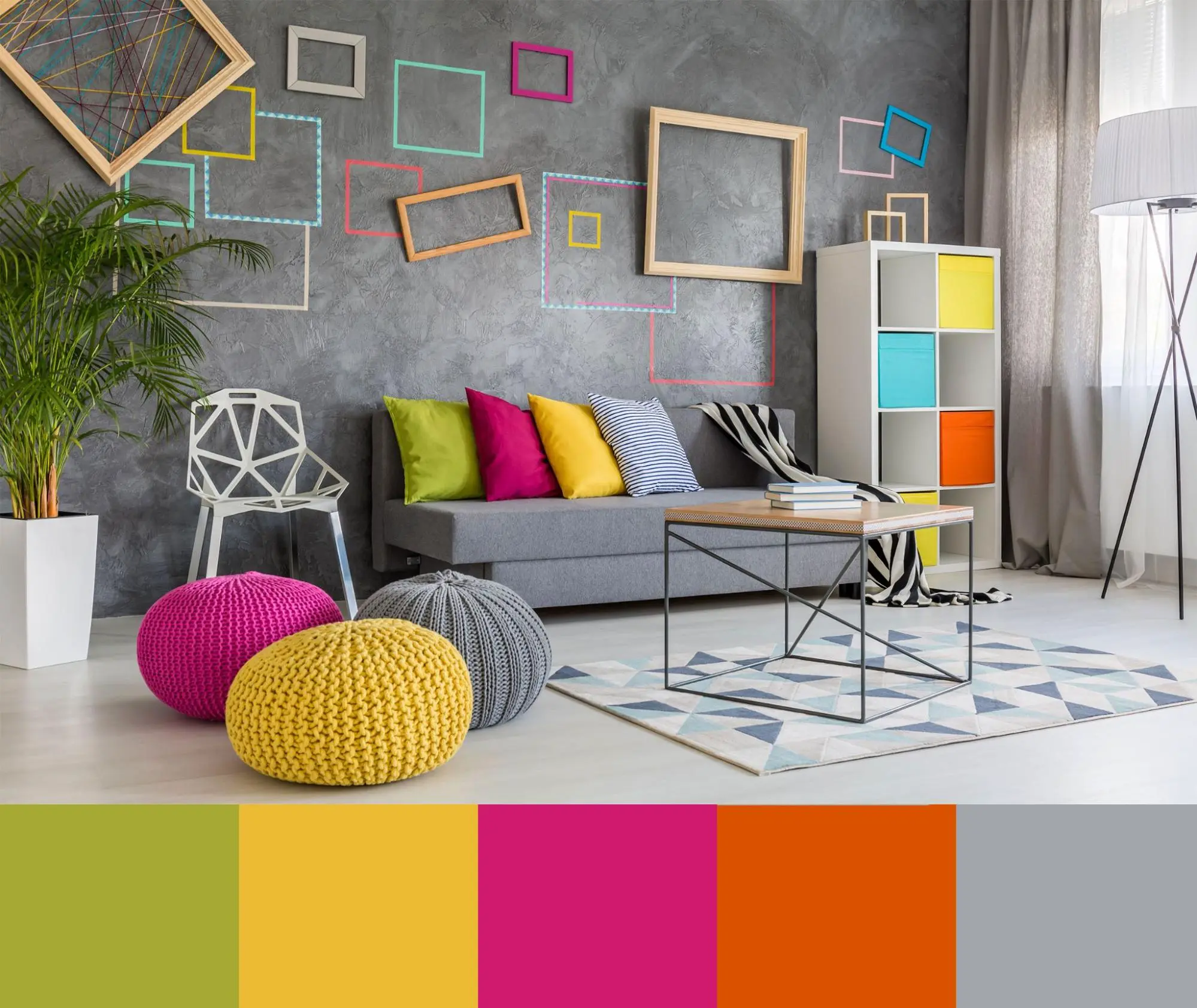 Hex colour codes: #A6AA32, #EBBB33, #D0196E, #DA5100, #A2A5AA
These colours almost form a straight row on the colour wheel, but are so vividly bright that they become contrasting, almost cartoonish. You certainly wouldn't use this aesthetic colour palette for a "serious" business like an accountancy firm, but you could use it for almost any fun brand that wants to express its playfulness. The scheme only works because of the neutral fossil grey that takes up 75% of the image, balancing out the remaining brightness and allowing it to take centre-stage.
13. Red Dead Redemption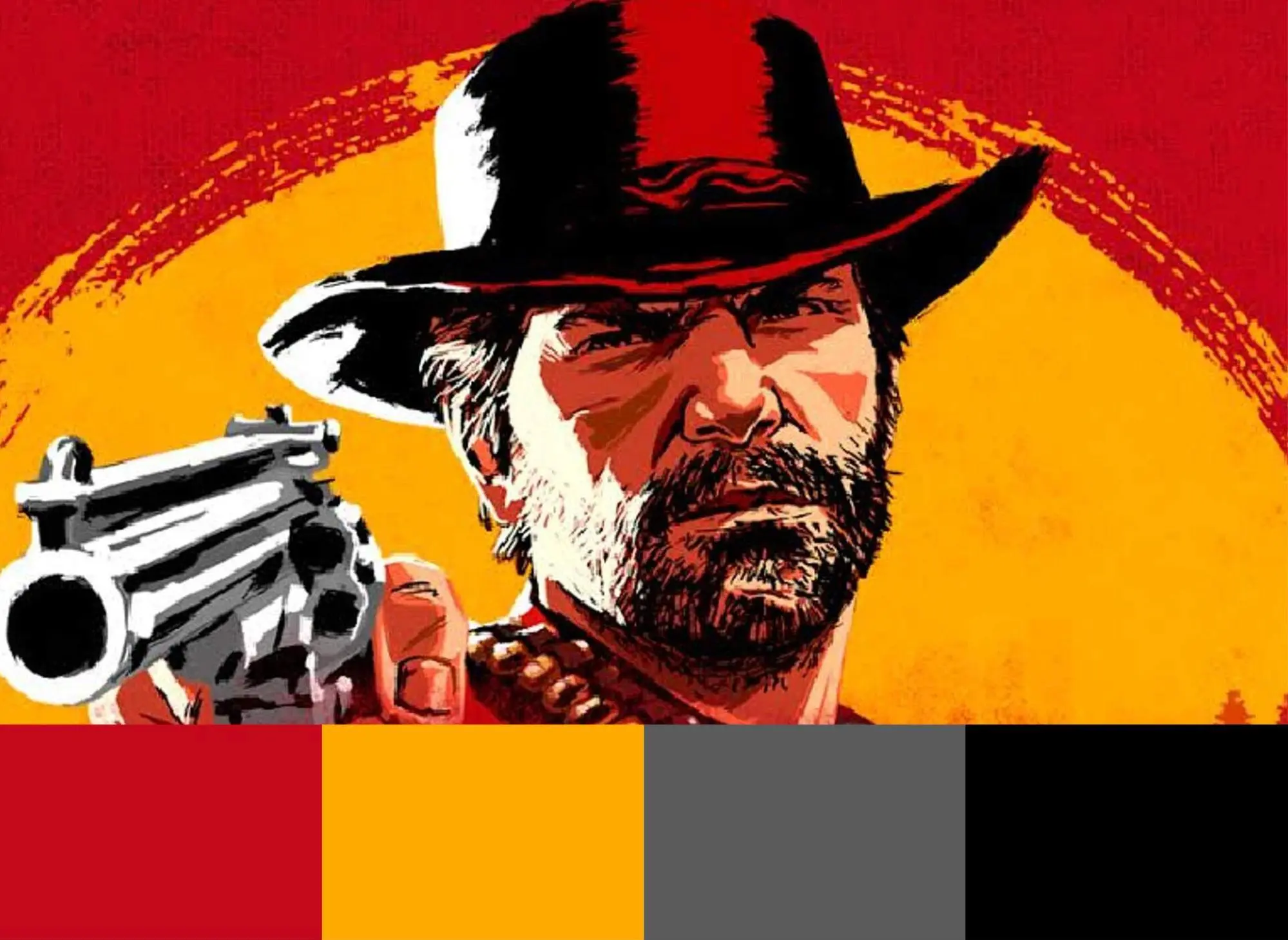 Hex colour codes: #C40A1C, #FFAA01, #5B5B5B, #000000
Any self-respecting gamer should recognise this image instantly. It's from one of the best-selling video games of all time—Red Dead Redemption 2—and uses a striking, highly-contrasting harmonious colour palette that matches its gun-slinging Wild West themes. There's a rich blood red in its background and highlights, a yellow gold used for the sunset which conjures thoughts of money-laden chests, an gun-iron grey for well, the gun, and a deep black to fill in the rest. The designers would have been foolish indeed to use a scheme filled with calming blues and greens (although the game itself uses those in abundance). Instead, they've chosen a palette that is harsh, in-your-face, and well-suited to the game's themes.
14. Whatever floats your boat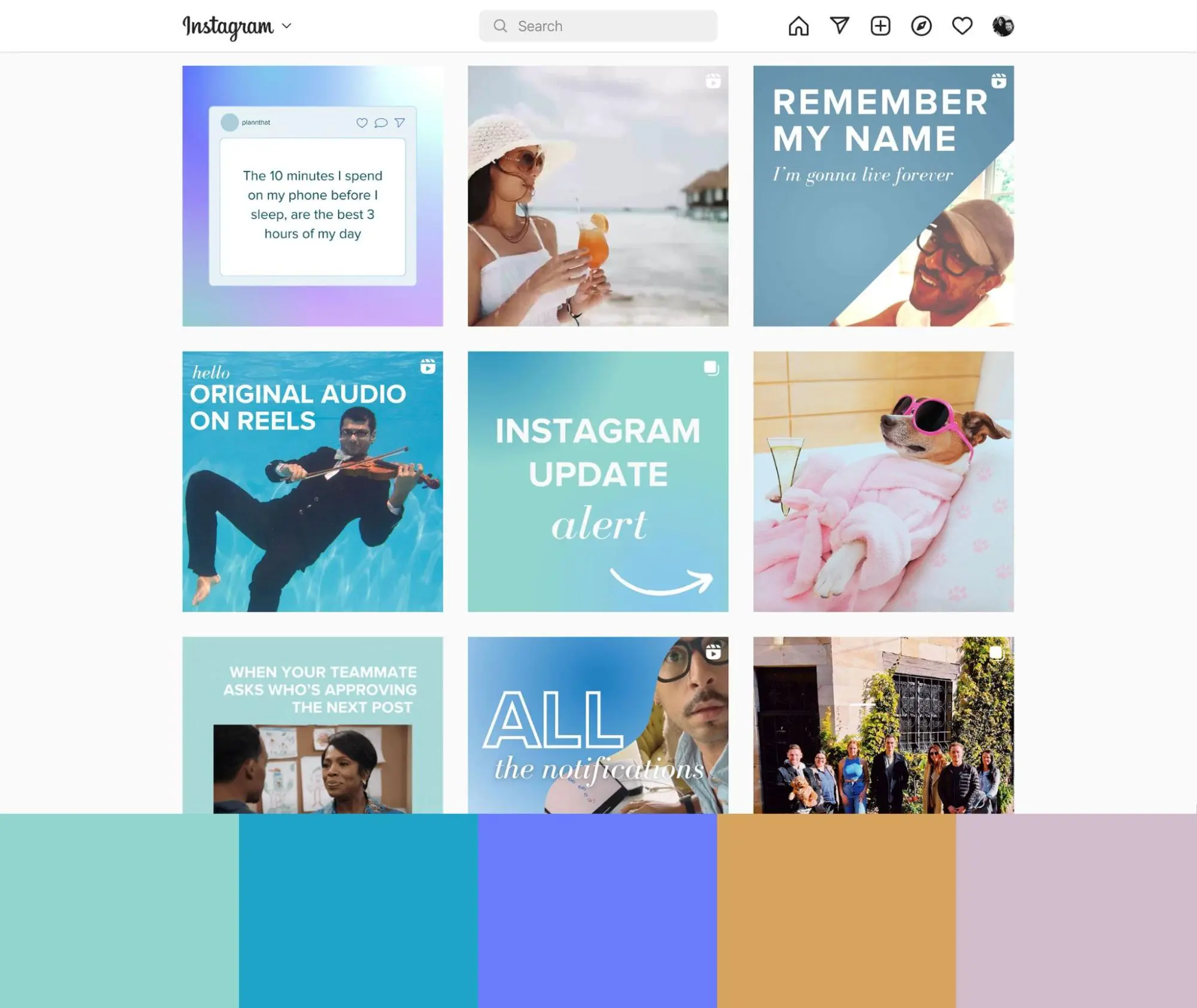 Hex colour codes: #93D5CE, #1FA3C7, #6A7CFA, #D6A45F, #D0BCCB
As a visual platform, companies on Instagram can adopt a specific colour palette that aligns with their branding and then reinforce it through their shared images. In the above example, this brand uses a selection of soft analogous colours, with three blue/green hues for the bulk, and a dijon gold and crepe pink tending to be used for highlights. This aesthetic colour palette feels tranquil and disarming, and is combined with imagery to support this. Personally, we find his scheme a little boring to look at because it lacks a contrasting hue that really stands out, but it may work well for the brand itself.
15. The dependable handover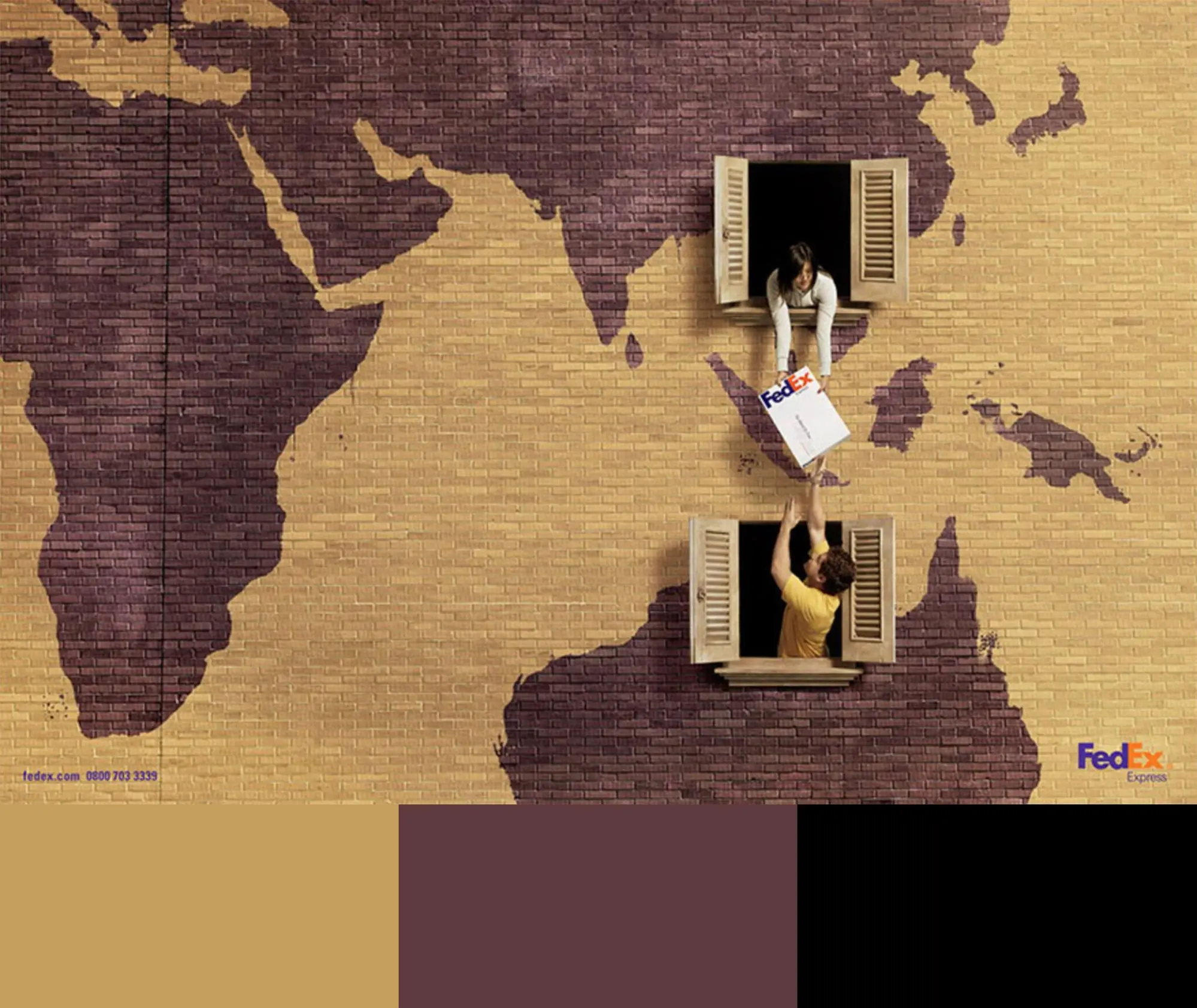 Hex colour codes: #C69F5E, #5F3B3F, #000000
This excellent advert from FedEx illustrates the idea of how easy it is to send a package using their service. It has a clean three-colour harmonious  palette throughout the image: a fawn gold, a chocolate blue, and a deep black for highlights. Brown can evoke feelings of strength and reliability, and gold of success and influence, which are values that FedEx would almost certainly want to portray to their customers.
16. Exotic chintz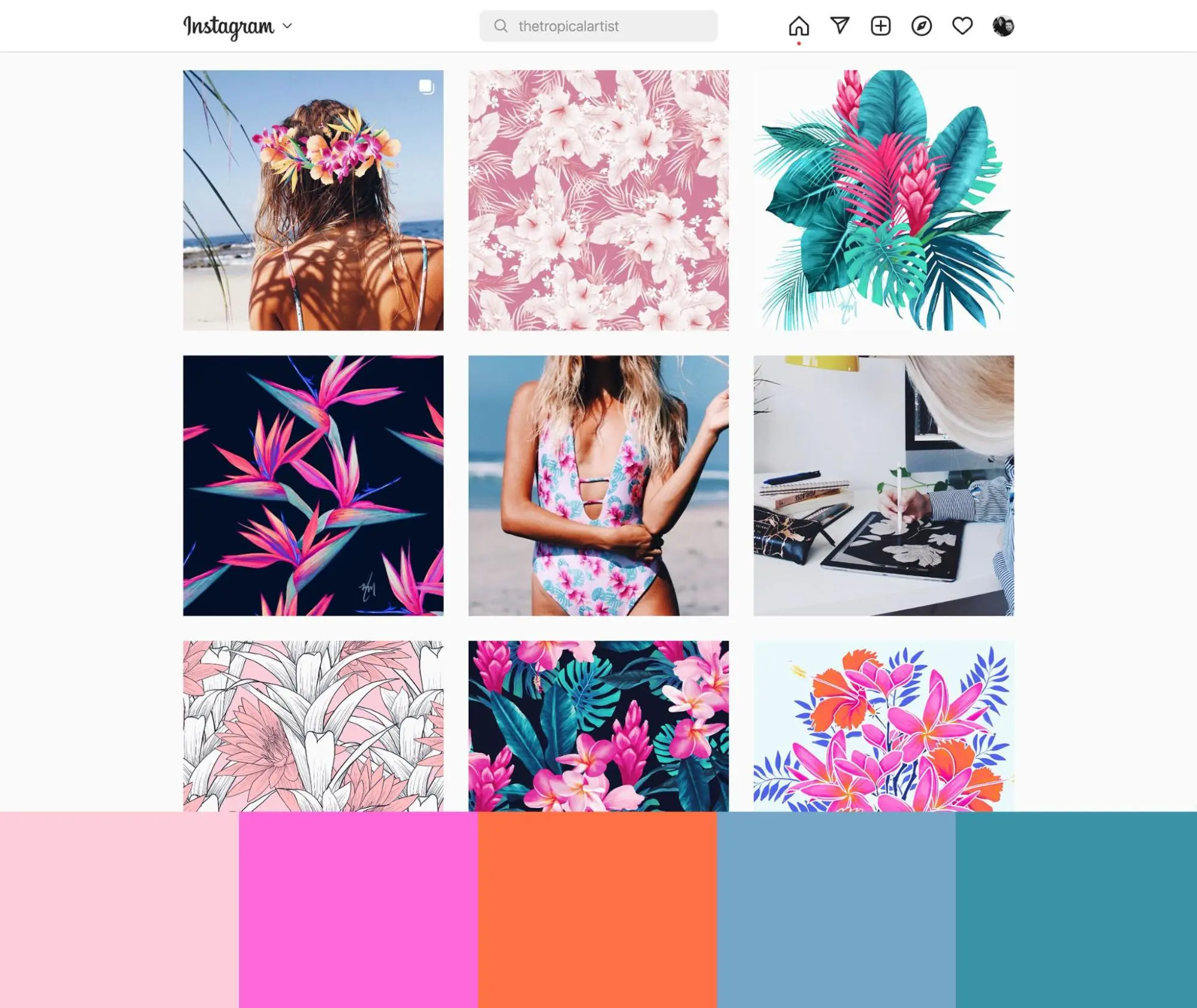 Hex colour codes: #FDCDD9, #FF68D9, #FF6F44, #75A6C7, #3A91A6
This surface pattern designer uses a wide variety of colours in her art, but regularly returns to a selection of bold hues that she seems to like. On the left are two analogous pinks: a soft flesh hue paired with an intense fuscia, which add a sense of femininity, and on the right are two shades of blue: an iceberg blue and a greenish ocean blue, which balance the pinks and create a ton of contrast. This combination of traditionally feminine and masculine hues is brought together by a bright tiger orange, to create a beautiful and exotic aesthetic colour palette that we hope makes the artist a lot of money.
17. The Man Your Man Could Smell Like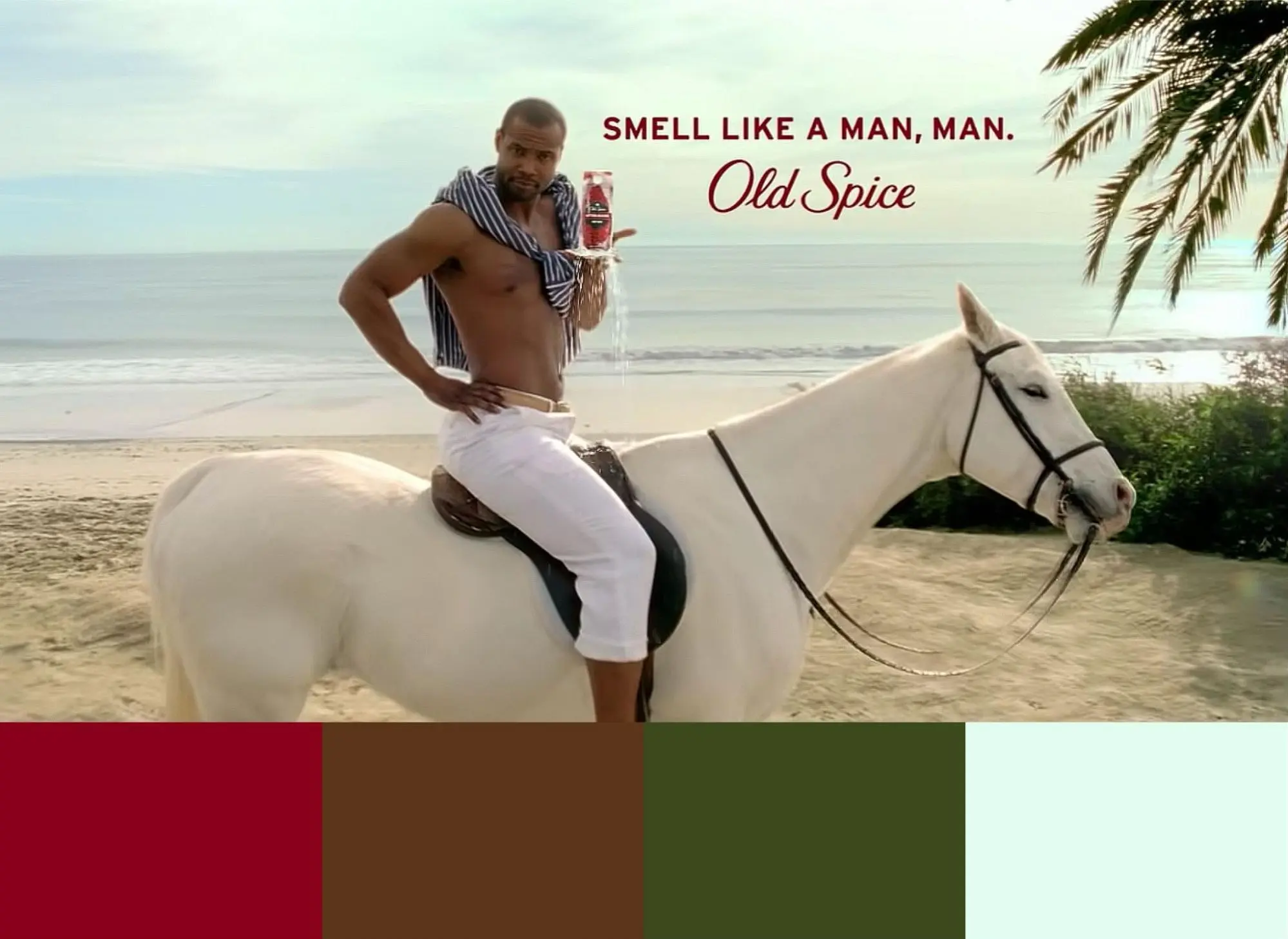 Hex colour codes: #88001B, #5A351A, #3C491D, #E2FCF1
This four-hue colour scheme comes from one of the funniest and most memorable ads of all time. There's a contrasting mixture of reds, greens, browns, and light blue/green, which make up the natural environment depicted in the screen capture of the advert above. The colours are distinctly masculine and reinforce the purpose of the ad.
18. Superlist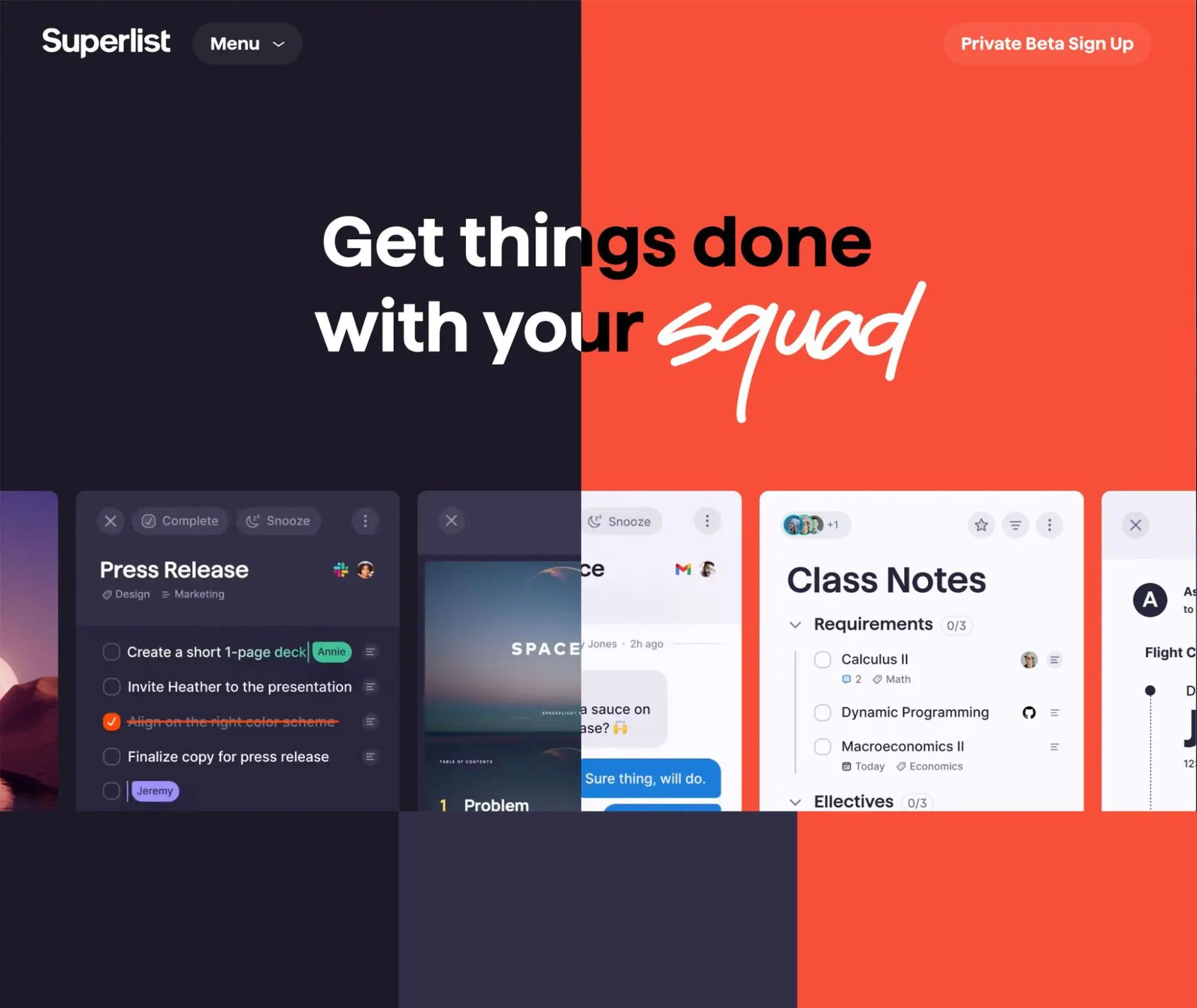 Hex colour codes: #1C1A28, #322F46, #F9503C
Software companies have a tendency to use limited colour schemes in their branding, and Superlist carries that torch. Two colours take centre stage: a vibrant red-orange and a simple sable black, which are used in the website's background, and can be swiped across to choose your preference. To allow defined shapes throughout the rest of the design, a slate grey and a light grey are used. The effect is impressive. You might think that this brand means business.
19. Workstack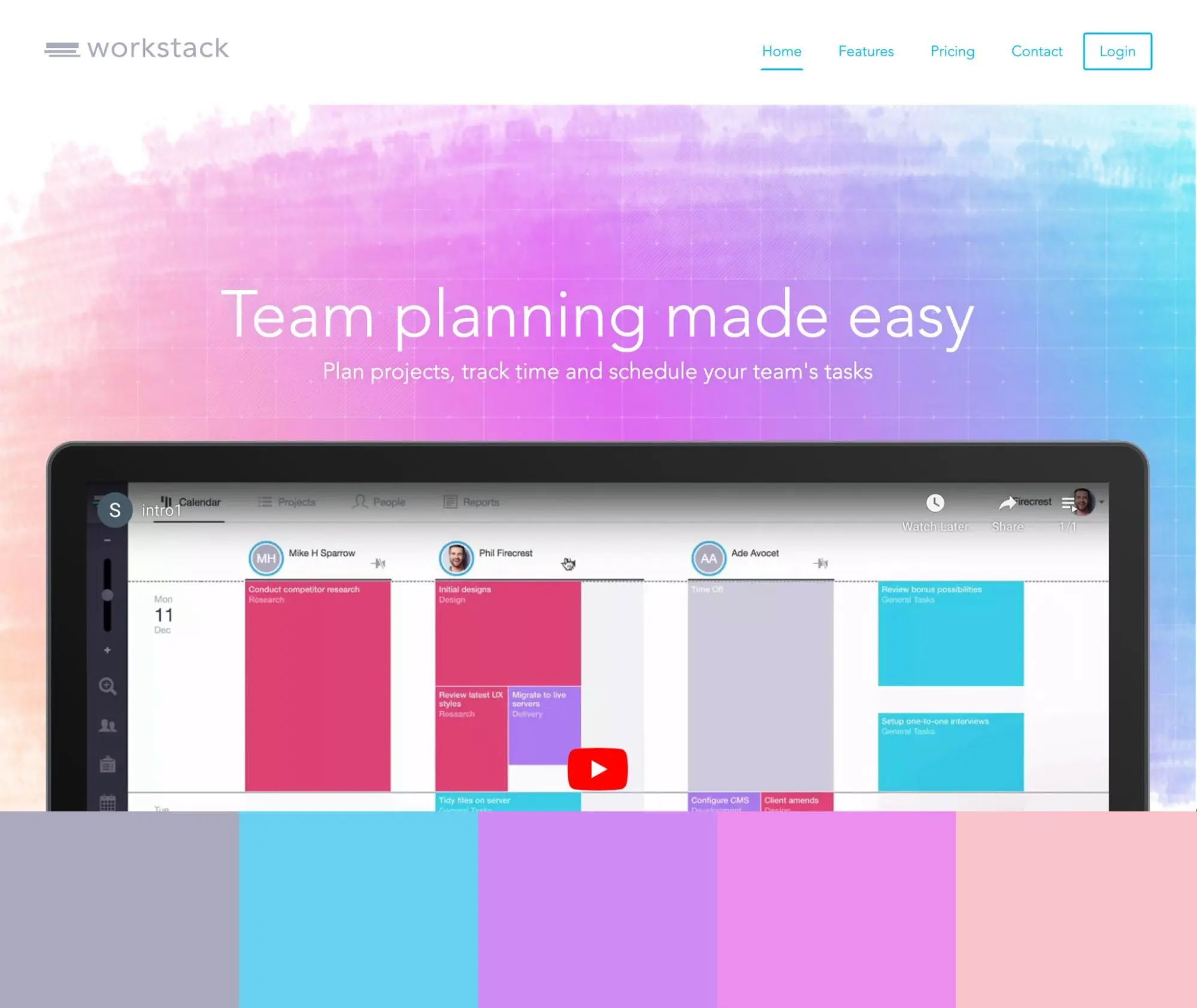 Hex colour codes: #ABA8BF, #69D0F0, #D08CF3, #EC8EEC, #F9C4CD
This delicate colour palette is from software company Workstack, and is a surprising choice for a work planning app. The scheme itself is beautiful, but doesn't exactly conjure thoughts of rolling your sleeves up and getting down to business. But who are we to judge—it might work perfectly well for them.
20. Mubasic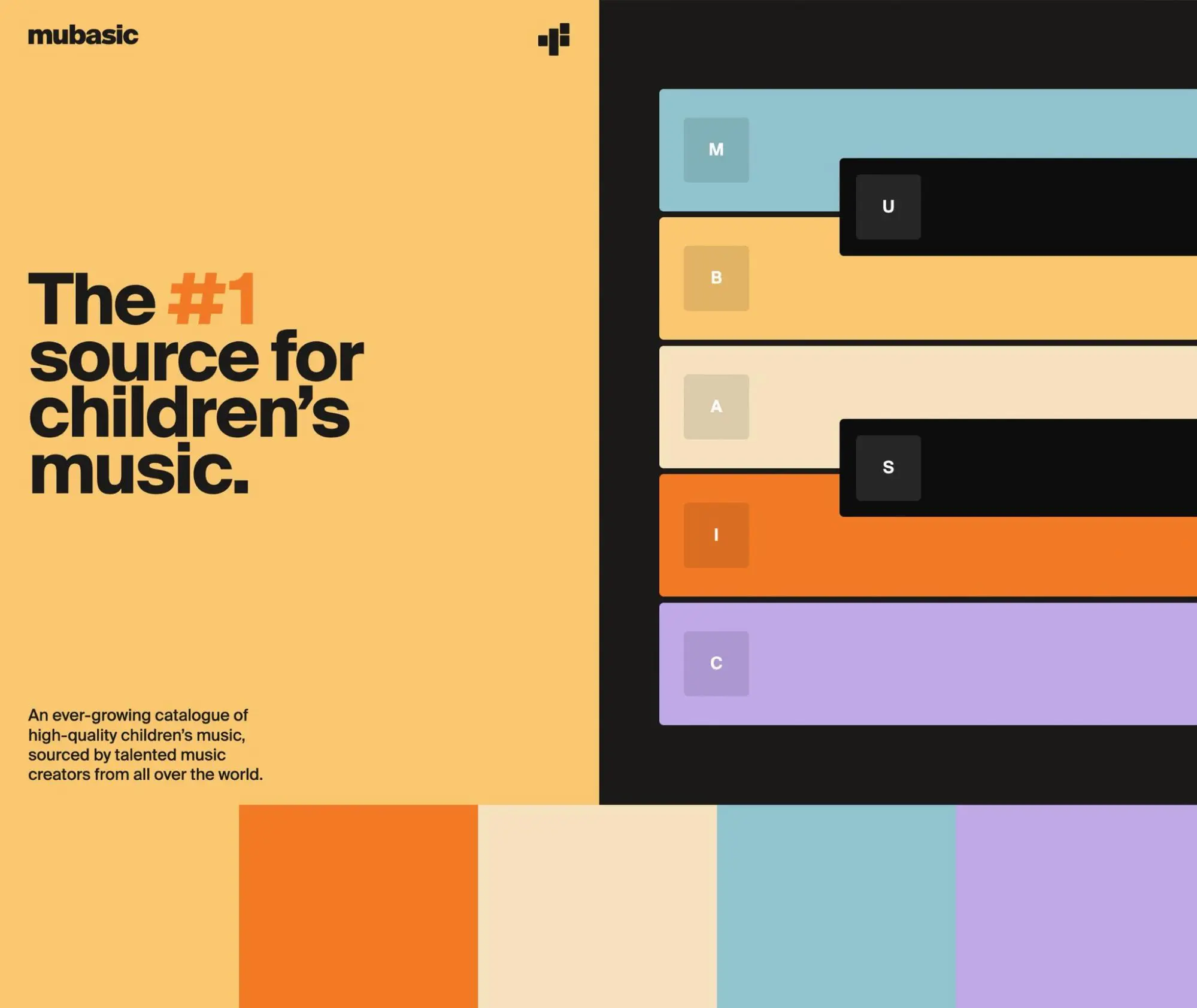 Hex colour codes: #FAC771, #F27A23, #F6E2BF, #92C4CF, #C0A8E6
For our final aesthetic colour palette, we have this eclectic selection from music catalogue Mubasic. It uses three colours from the yellow/orange group, and two from the blue/purple group to create an analogous yet contrasting feel—super interesting and unique, and grabs our attention as a result.