Facebook Reviews 101: Attract Customers & Build Revenue
Our species evolved in tribes, where lying could be devastating to someone's reputation and safety, so we tend to trust what people say. In modern times, that means when we visit a brand's Facebook page and they have hundreds of recommendations, we presume we'll have a great experience too. And we probably will, unless their staff are having the mother of bad days.
This is what makes Facebook reviews so powerful for businesses. 93% of consumers say that online reviews influence their purchase decisions,1 and 49% of consumers trust reviews as much as personal recommendations from friends and family (your loved ones aren't infallible, after all).2 In this article, we'll tell you everything you need to know about Facebook reviews, and how you can start using them to your advantage.
What are Facebook reviews?
Facebook reviews are yes/no recommendations that can be left on Facebook pages, which include a mandatory comment. They are officially called Facebook Recommendations.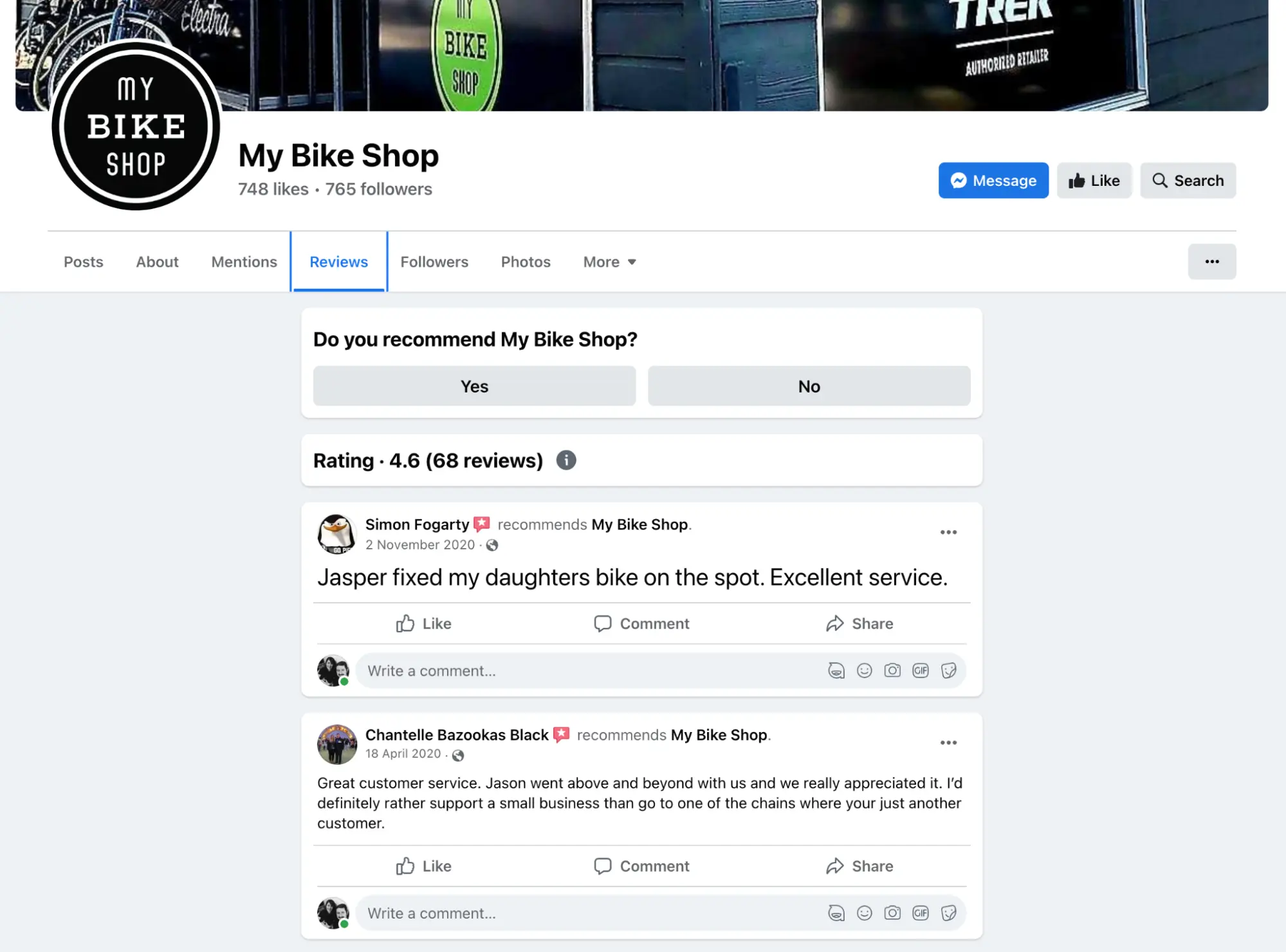 Users can change the review's visibility, add emojis, and select preset tags that are relevant to the type of business, like "cosy atmosphere" for cafes. Once the review is posted, they can add comments that include further engaging content like images, stickers, GIFs, etc. Because this system is built on Facebook's standard post functionality, it's an incredibly rich way for users to review businesses, and for businesses to interact with their customers. In fact, it's strongly recommended for companies to respond to every review they receive on their Facebook page, especially negative ones (we provide some guidance on this below). This shows people that you truly care about their opinions and value their business, whether they are the person that left the review or not.
Reviews can be added to any type of Facebook page, including local businesses, artists, and communities. You can find them under the "Reviews" link in the page's menu bar.
Facebook used to have the traditional 1 to 5 star system that is used by companies like Google and TrueLocal. But in 2018,3 they adopted this simpler approach, possibly as a way to make it easier for people to leave quick reviews. But while this binary yes/no approach may encourage more people to offer their opinion, it doesn't work particularly well for people who sit squarely in the middle, who would neither advocate or denounce the business, but instead feel a bit "meh." For these customers, they might choose not to recommend the business, but include some positive thoughts on their comments to achieve more of a balanced review. Whether this is a good thing or not remains to be seen, but one thing is for sure: the comments on Facebook reviews have become much more important for staff members who are trying to gauge people's opinions on their brand (like reputation managers, for example).
Here are some of the biggest benefits of Facebook reviews for businesses:
In a study by ReviewTrackers, 94% of people say that an online review convinced them to avoid a business.6 We put a lot of stock in customer reviews, and they can really help to convince people to buy from companies. Better customer reviews = greater revenue.
Customer feedback can be a rich source of information on how to improve your business, especially in the form of negative reviews. You obviously don't want reams of public negative feedback, but you can find gems if you look hard enough.
Customer reviews give people a voice, and can make them feel empowered when dealing with brands, especially big brands.
Facebook themselves state that having positive recommendations may make your page easier to find in their search feature, which means it could be an effective SEO method for the social network. It makes perfect sense: Facebook wants their customers to think positively of them, and if somebody finds a high-quality brand through the social platform, that goal is achieved by association.
Positive consumer reviews are basically a free form of marketing, with your loyal customers giving their recommendations and convincing others to buy from you.
Turning on Facebook reviews
If you'd like to turn on Facebook reviews for your business page, there's good news: they should already be activated. If yours aren't activated for some reason, you can turn them on by completing the following steps (you'll need admin access):
Click your profile photo in the top right.
Click "See all Profiles," then select the page you want to switch into.

Click your Page's profile from the left-hand menu, to go to your page.

Click "Settings" in the left-hand menu.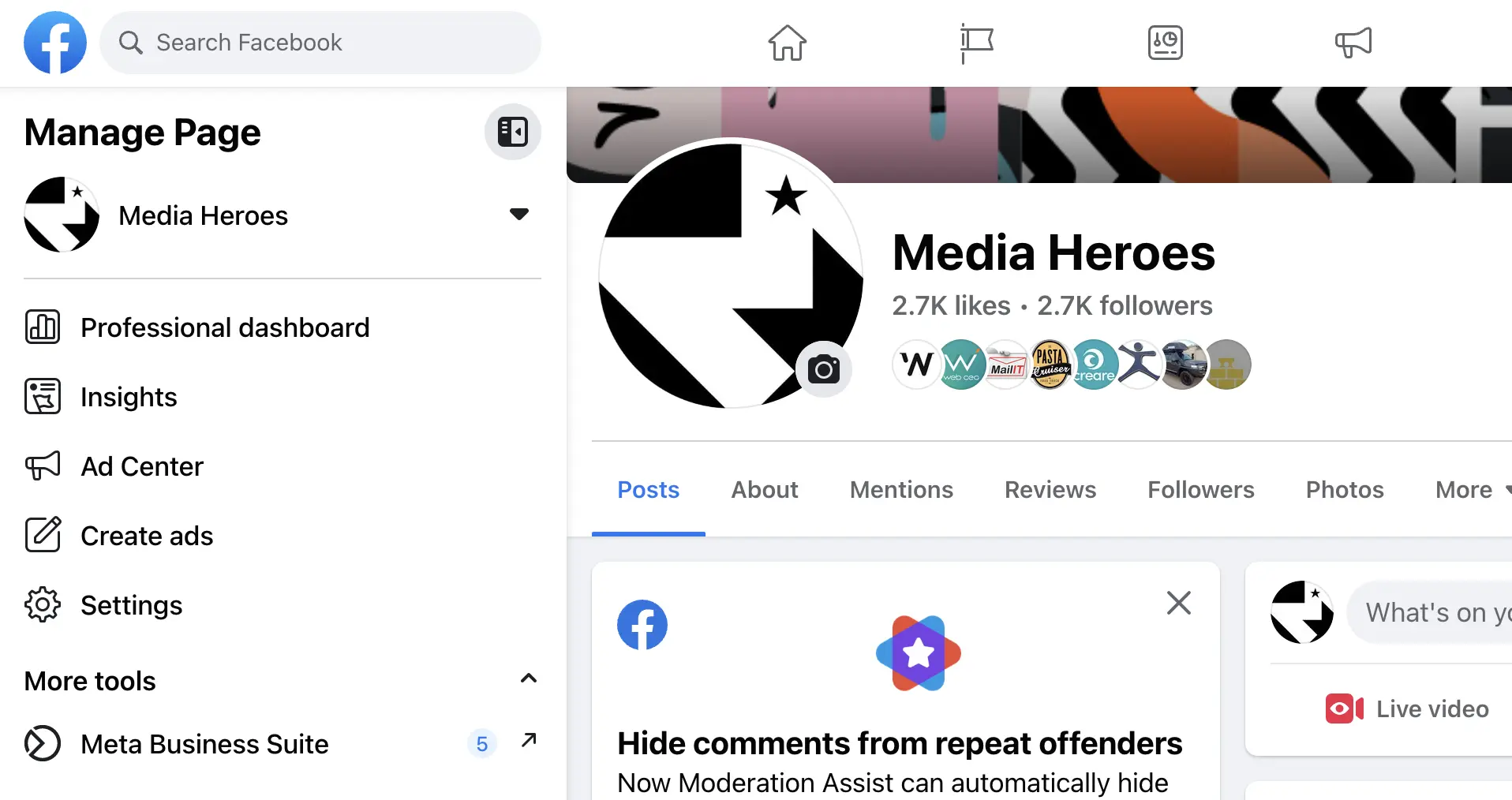 Click "Privacy" in the left menu, then click "Page and tagging."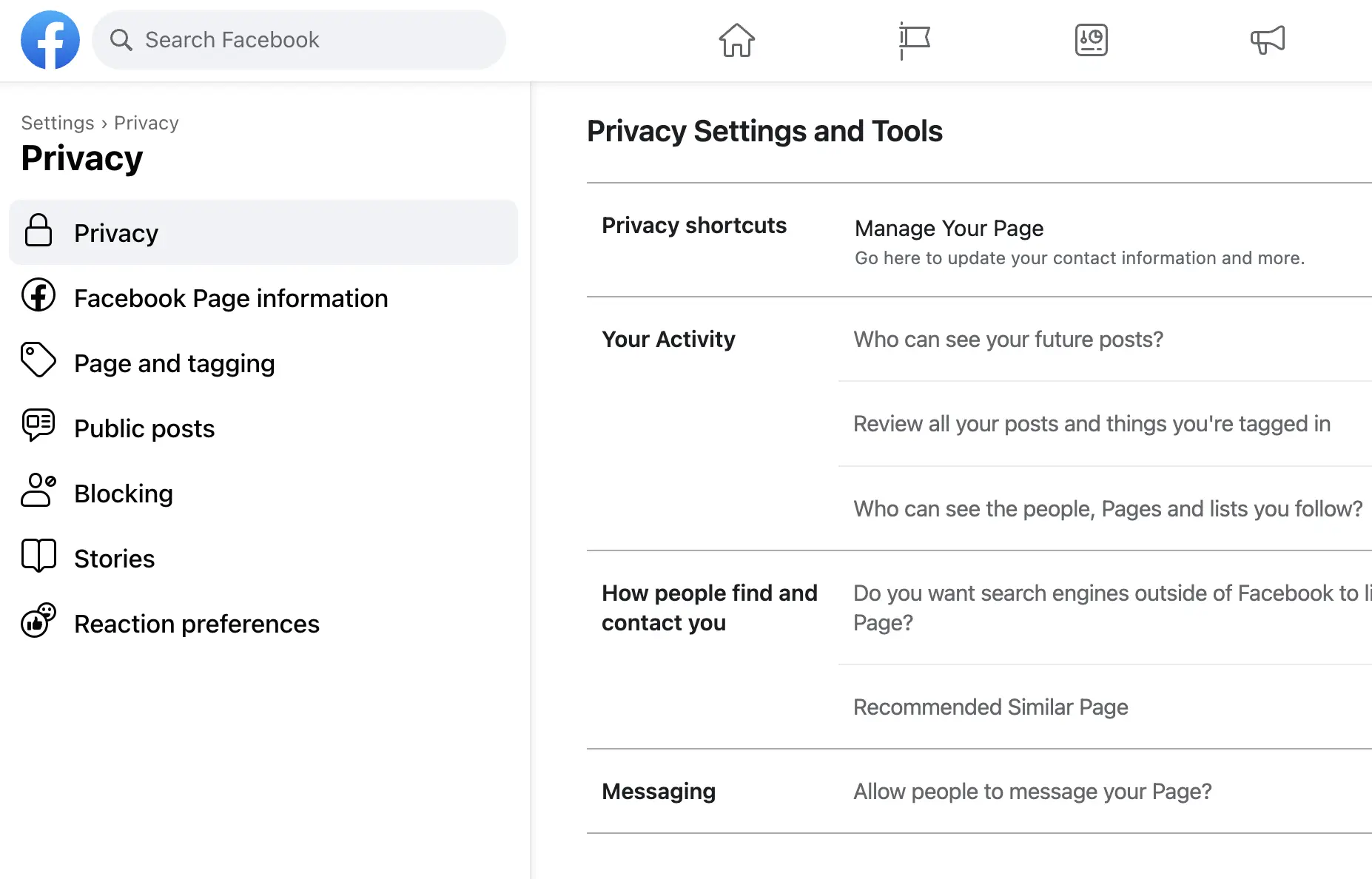 Toggle "Allow others to view and leave reviews on your Page?" to turn reviews on (or off).

If you don't already have a Facebook page, you'll obviously need to create one to start receiving reviews. If the page has already been created by Facebook, you'll need to claim it instead.
How to respond to Facebook reviews
Customers like it when businesses respond to reviews (especially negative ones), because it demonstrates genuine care and attention. According to ReviewTrackers, 53% of customers expect businesses to respond to negative reviews within a week.6 And in a study by TripAdvisor, 89% of travellers said a thoughtful response to a negative review improved their impression of a business.5 
Here's some brief tips on how to respond to both positive and negative Facebook reviews:
Responding to positive recommendations
These are the easiest types of reviews to respond to, but they still require a unique response, otherwise people might assume that your customers aren't worth your time. These are some good practices to follow:
Thank the person for their review, and use their first name.
Try to highlight and reaffirm some of the positive things that the customer has said.
If a particular staff member or role has been mentioned, say that you will pass on the compliment.
If there is constructive criticism, thank the customer for it, and try to explain how you will do better.
Responding to negative "non" recommendations
Negative reviews can be a bit of a minefield. You want to show customers that you care about their opinions, but potentially justify why something may have happened without coming across as defensive. The ultimate goals are to make the individual reviewer feel good about the interaction, and show other people that you are a compassionate, helpful business.
We wrote an entire article on how to respond to negative (Google) reviews, which we recommend reading. But here are some essential tips lifted from that article:
If appropriate, call the customer to fix the issue. Problems are usually best resolved on the phone.
Thank them for their review, and use their name.
Apologise for the customer's frustration, anger, etc, as well as any errors you've made. Then explain how you're going to fix it.
The process for responding to Facebook reviews
As for the actual process on how to respond to Facebook reviews, it's the same as responding to any post or comment on Facebook. But here's a quick step-by-step guide on how to do it:
Go to your page.
Click on the "Reviews" tab.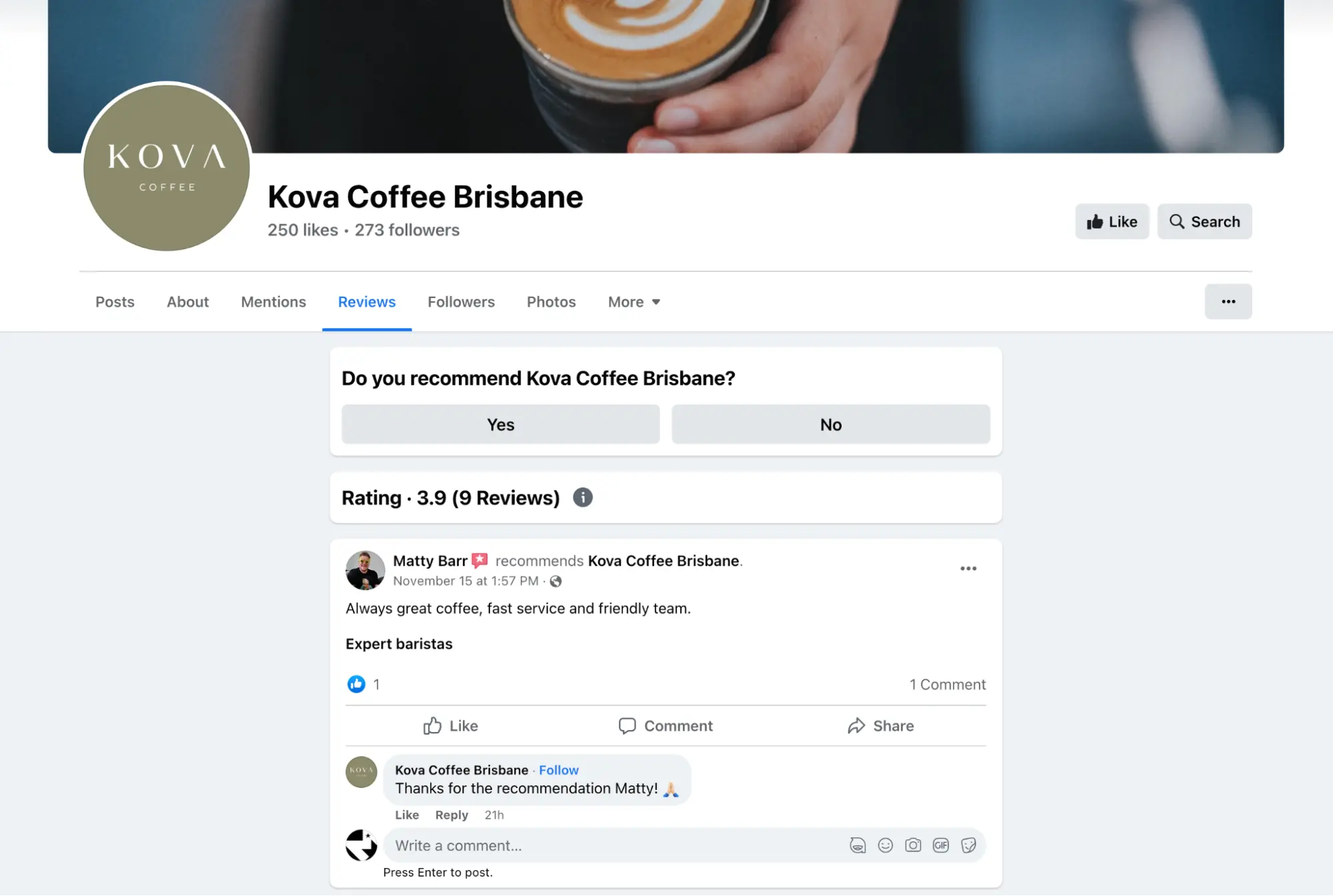 Click on the comment field, and write your response.
An important point when responding to reviews: be sure that you're responding as the actual business, rather than your personal account. This is a common mistake!
How to remove a Facebook review
You can't manually remove reviews from Facebook, because that would mislead consumers. Instead, what Facebook offers is the ability to report reviews, which they manually read and decide whether the review should be removed. If the review has broken any of Facebook's Community Standards, like content that endangers people, is misleading, or is spam, there's a good chance they will remove it from your page.
Reviews can be reported by anyone on Facebook, not just administrators of the page. Here's how to do so:
Click on the three-dot menu icon on the top-right of the review, and select "Report post."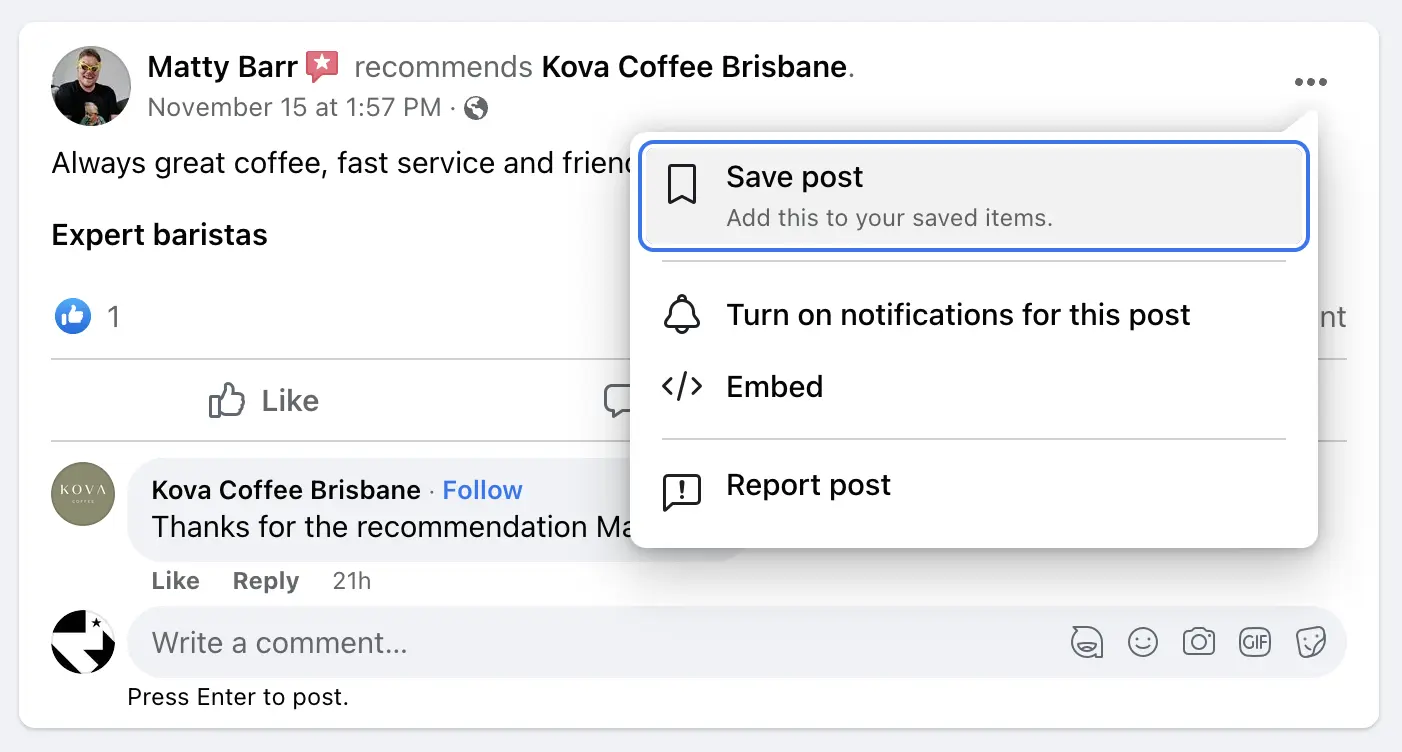 Select a reason why you're reporting the review. These are based on Facebook's Community Standards.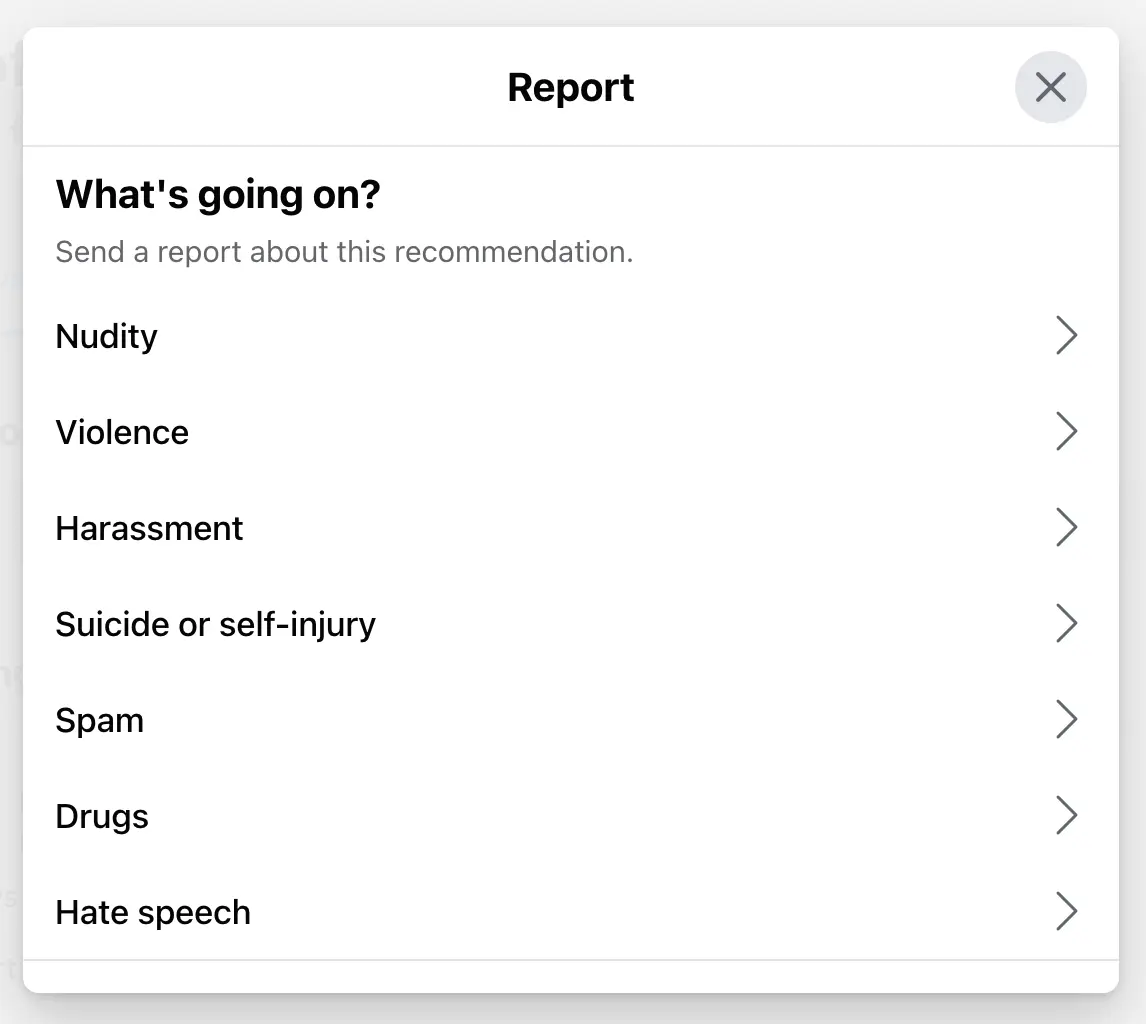 It may take a while for Facebook to assess and possibly remove the review, so hang tight.
The only other way to remove Facebook reviews is by disabling reviews for the entire page, but this is a drastic move given the influence of reviews on people's purchasing decisions.
How to send Facebook review requests
Given that customer reviews are so important to businesses, you may be wondering how to get more of them for your Facebook page. The most efficient way to send Facebook review requests using software, which allows you to create an automated "set and forget" process. Here's the basic idea on how it works:
Ask a customer to rate your business. This can be a simple recommendation like Facebook's review system, or a more traditional 1 to 5 scale like Google's. The request is sent automatically via email.
If the customer gives you a positive rating, send another automated email asking them to leave a Facebook review, with a direct link to your page, and instructions on how to do so.
It's as simple as that. Identify which customers feel positively about your business, and then ask them for reviews. It's also good for your team members to send the email manually after they have a positive interaction with a customer, as they will be much more willing to leave a review.
This process can be set up using a CRM like HubSpot, which allows emails to be automated, or through review management software that has been designed for this very purpose. Whichever method you choose, it's an effective way to get more positive reviews for your brand, which should result in greater trust, better SEO in Facebook's search, and higher revenue.
You might also consider adding "leave a Facebook review" widgets on your website, but these can drastically slow down your site's load speed, which will degrade your SEO.
How to leave a review on Facebook
The last thing for us to cover is how to actually leave a review on Facebook as a customer. It's super easy—just follow these steps:
Go to the page where you want to leave a review, and click on the "Reviews" tab.
You'll see a box with a "Do you recommend [business name]" question, with "Yes" or "No" options. Click on your preferred option.

Provide some thoughts on why you recommend (or don't recommend) the business. This must be at least 25 characters long, and you can add emojis if you like.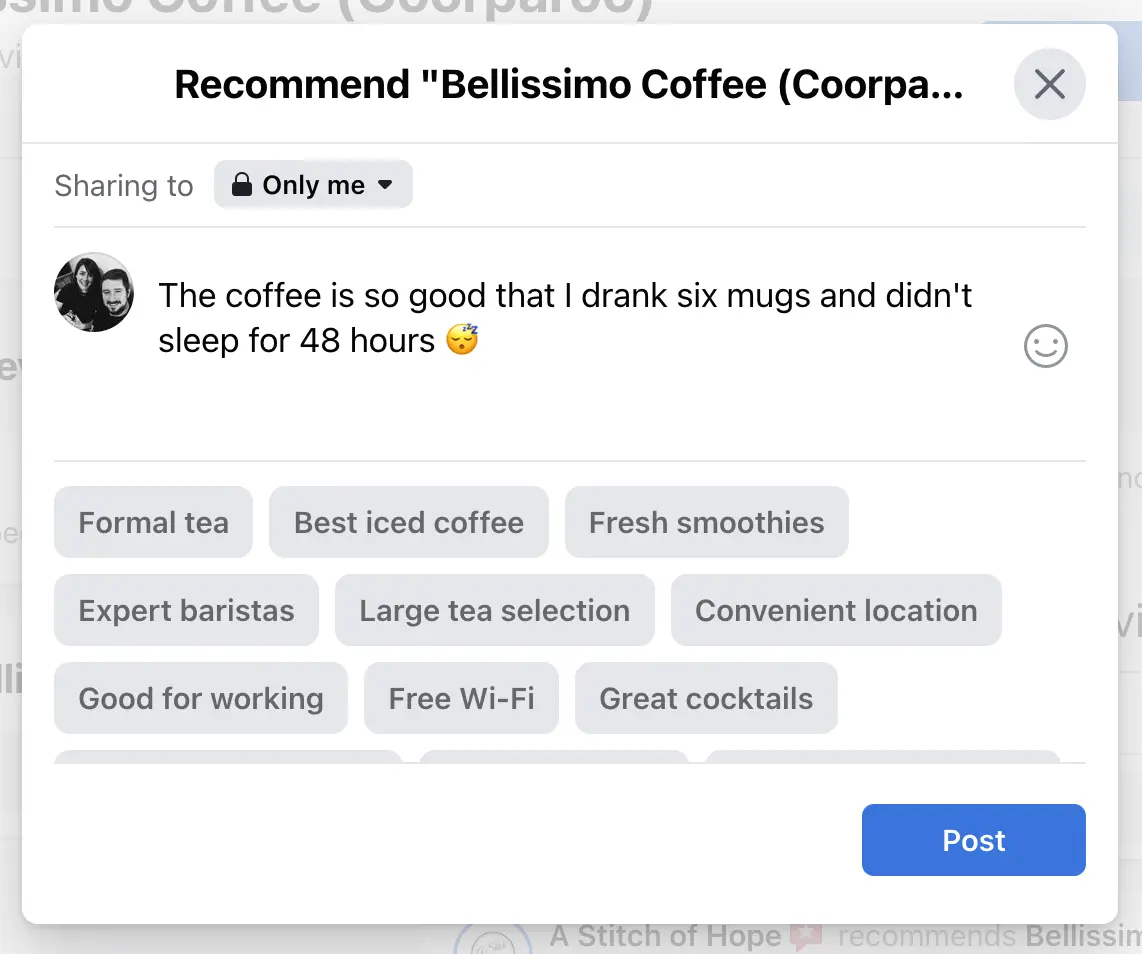 You can change the visibility of your review by clicking on the "sharing to" button. You can make it visible to anyone, just your friends, your close friends, only you, and other custom settings.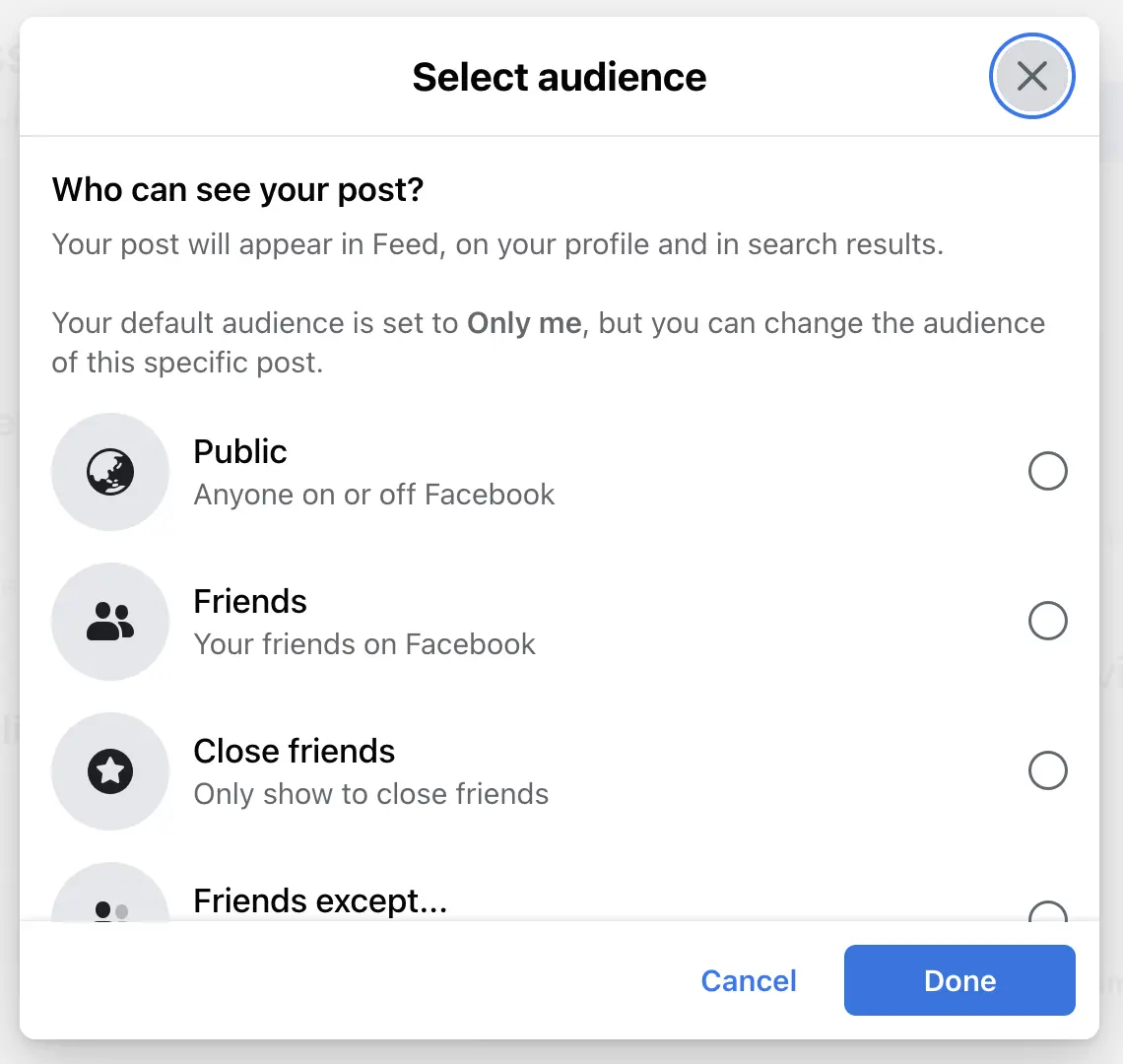 You can also add preset tags that are based on the type of business, such as "expert baristas," "healthy salads," etc. This helps other customers to learn what is good or bad about the business.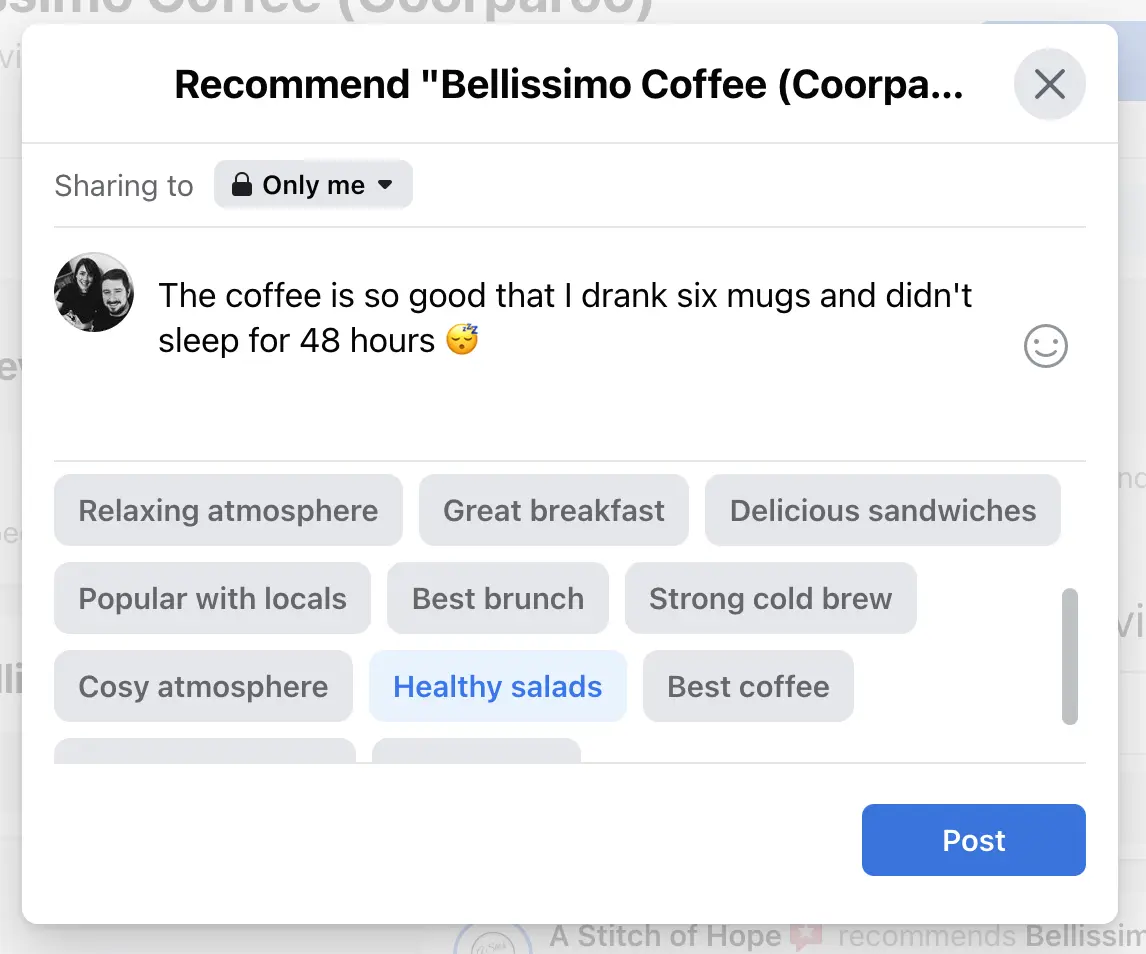 References