9 Proven Ways To Get More Traffic To Your Website
Websites can be highly efficient sales-generators, but only if you can attract plenty of people to them. So how do you get more traffic to your website in 2022, to make it your number one sales channel?
9 ways to get more traffic to your website
Here are our biggest tips on how to get more traffic to your website, to increase your leads and sales.

1. Optimise your transactional pages
To turn visitors into customers, you'll need to optimise the pages that make you money, known as "transactional pages." There's really little  point in increasing search traffic if it's not going to turn into sales, or improve your overall SEO.
Every transactional page (like your service pages, product pages, and other pages where people can generate leads or sales) should be optimised for the most relevant and popular keywords, so that you can ensure a steady flow of traffic to them. You should also focus on creating content that answers the most pressing questions for the customer, and structure it in a way that makes it easy to find and understand. You want the best possible user experience for your visitors.
Say you're selling pest control. For your business, the word "termites" would be one of the most common searches in Australia, and therefore more competitive and difficult to rank for. That means you'll need more content and more optimisation for that content. Ants may be profitable, but not as popular as their bigger, creepier cousins, which makes the keyword less competitive, requiring less content and less optimisation. The goal is to identify the keywords that are most profitable fo for you, and to optimise it thoroughly. You'll see your search traffic increase as a result.
Once keyword optimisation is done, internal linking is your next step. These allow Google to discover appropriate associations between pages, so that it gets a better idea of what is related to what, and can easily follow the links to find new pages. They are crucial for SEO. As an example, you could write a few guest blogs on termite infestations in your local area, link between related blogs or transactional pages, and voila—Google may start to see you as an authority on termites, and boost your SEO as a result.
2. Create amazing content
One of the richest YouTube stars in the world is an 11-year old boy called Ryan Kaji, who has earned $30 million USD on his channel. That's the power of great content—it can draw in millions of people to your website or channel, making you rich beyond your wildest dreams.
Every business can succeed by investing heavily in content marketing. Videos, blogs, and eBooks are just a few resources that people seek out, and if they are high-quality, people will recognise this fact and may decide to subscribe to your content (or perhaps bookmark your website). The better your resources, the more traffic you can expect to attract to your site, and the greater your opportunities for turning that traffic into revenue.
3. Advertise
When most people think of advertising, they think of an image or video that is selling something directly to them. But did you know that advertising can be a great way to pull traffic to your website? The more visitors you have going to your site, the stronger the user signals are sent to Google, who will reward you with higher SEO ranking as a result.
This can be a fantastic way to give yourself a "leg up" in Google's eyes, and can help to transform your website into a desolate no man's land to a thriving market where customers abound. The adverts can be created through Google itself or  another channel like Facebook, and can direct people to your educational blogs, eBooks, or other content resources, as well as your transactional pages.
4. Use social media
Social media is not only a great way to grow your brand's presence online, but also a method for attracting hoards of new visitors to your website. All you have to do is post helpful, enticing content regularly to your subscribers, and they'll happily click through to your website. This method brings direct traffic and send positive user signals to Google, and with so many people visiting the site, they realise how popular and awesome you are,  and may increase your ranking as a result.
Because social media is all about content, you'll need to invest a fair amount of time in creating that content. This is the hard part, but it's worth its weight in gold.
5. Use FAQs
Can you answer a specific question about your industry? Think about the questions you're always asked by customers. Perhaps it's "how often should I clean my air conditioning filter" or "how does this product work?" You can cater for surprisingly high volumes of traffic by answering these questions on the relevant page, either transactional or educational.
Once you've crafted an exact answer, create an extra 400+ words giving tips, advice, unique expert insights and references to instructions or something similar. At the very least, it will help rank your site for that specific question.
If you nail it, your site will appear as a featured snippet in search results. This fast forwards you to slot one in search results. The only way to appear there is to deliver the very best answer to the question, so make your content valuable to the user!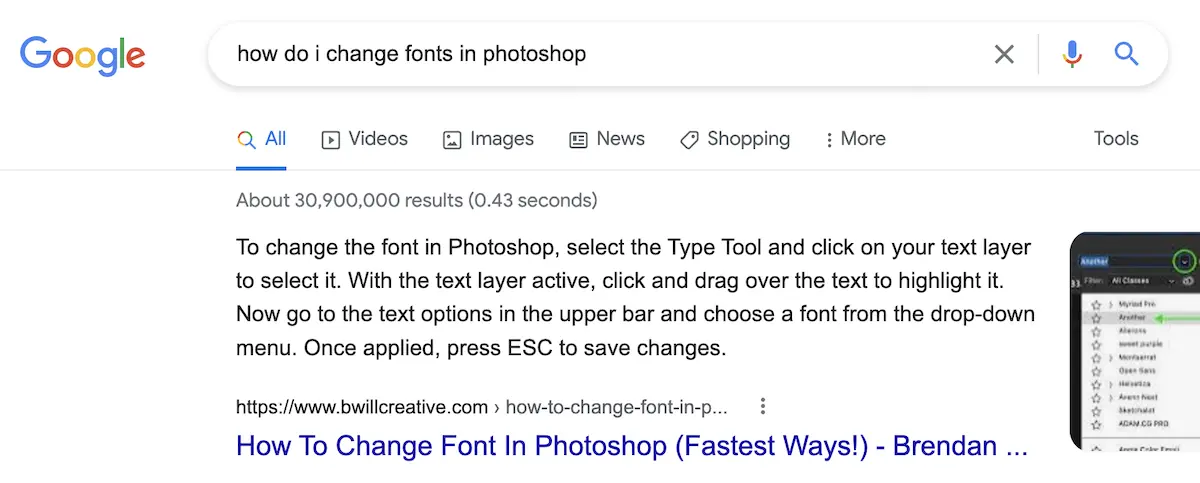 6. Add structured data
"Structured data" is where you can add extra information to your content to encourage Google select you for rich snippets. Depending on your business type, your videos, events, recipes and other forms of information can appear at the very top of the page, and include elements like images, emboldened text, and more. It's a surefire way to increase your CTR and get more visitors.
There are a couple of ways to add structured data, one easier than the other. We explain how to do this in our SEO rich snippets article.
7. Optimise for Core Web Vitals
Core Web Vitals is a recent, major change to Google's search algorithm, prioritising page load speed, speed of user interaction, and how much a page jumps about while loading. These factors are now an important part of how Google ranks web pages, so it's essential to satisfy them as best you can. Check out our article on Core Web Vitals to find out more information.
8. Use email marketing
Email marketing is still one of the most effective ways to reach your target audience, with average click rates of about 10% across all industries.1
That means if you have a thousand subscribers, you can expect about 100 to click on your email campaign (provided it's properly done). That's a big number, and can increase further if you send campaigns that people actually want, like newsletters packed with useful content that people want to read. Email marketing is a fantastic and often overlooked way to boost your website traffic.
9. Get a new website
As websites become older, they start to "degrade" because they no longer have the latest coding practices that are necessary for good quality SEO (this is assuming they had them in the first place). Google regularly changes its algorithm over time, so while your website may have catered for this when it was launched, it neglects any new updates, which puts it in danger of falling down the rankings.
For this reason, if your website is four years or older, hiring a web design company who knows what they are doing can make a tremendous difference to the ranking of your website. This can lead to many more visitors, and hopefully more satisfied visitors if the site is well-designed, generating more sales in the process.
How to get more traffic to your website—summary
Exceptional content, advertising, and SEO optimisation are just a few proven ways to pull in more visitors to your website. They can be time-consuming—but what isn't in business? If you put in the work, you can expect droves of new visitors, and increased leads and sales as a result.
References
What are good open rates, CTRs, & CTORs for email campaigns?

,

Campaign Monitor