6 Top-Rated Google Review Management Software, Compared
If you're like most of us, you read reviews before committing to a product or service. We are hardwired to listen to the opinions of our fellow humans, and we tend to trust them, even if they are strangers. That's why customer reviews can be so crucial to the success of a business, but they can be difficult to get, requiring a lot of manual work for not much success. Thankfully, software comes to rescue again, specifically Google review management software.
What is Google review management software?
Google review management software allows you to request and manage customer reviews for your business, with a view to get more high quality reviews and enhance your brand's reputation.
When acquiring new reviews, the software usually sends a simple review request that asks them to submit a written review. This review can then be published on multiple platforms at the same time (like Google and Facebook), if the user has accounts for them. If the customer is unhappy, the company has the opportunity to reach out to them and resolve the issue, which can then lead to a positive review. These review requests may be sent via email or SMS, which gives the user a wider choice and improves the likelihood of them submitting a review.
If a customer is too busy to respond to a review request, or just doesn't feel like it at that time, the software can send a reminder to them after a certain period of time, which further increases the chances of them submitting the review. This feature is a big deal because the vast majority of us fall into the "too busy or don't care" category.
Review management software is a central place to manage your customer reviews, so that you don't have to log into multiple systems, or figure out how each of them work. Most of them work for the biggest review systems on the web, including Google Business, Facebook Pages, Tripadvisor, and Yelp. Some of them work with hundreds of review systems, so you can solicit reviews for as many places as possible, improving your online reputation and encouraging people to buy from you.
The software also allows you to set up campaigns with new goals and reports, so that you can identify how each of them are performing and make adjustments. Campaigns can usually be sent to specific groups and have unique messaging, so that you can target the right people.
Finally, review management software often integrates with the company's social media accounts, which allows you to auto post positive reviews to your various pages and accounts, further improving the image of your brand by showing the world how awesome you are.
These are some of the most popular and useful features for review management software, but there's many more. You can see a bigger list for our chosen apps in the comparison table below. But for now, let's jump into our recommendations.
6 highly-rated Google review management software apps
These are six popular, highly-rated review management software options that may be suitable for your business. We've included software with a variety of prices too, so that you can select the software that best fits your business size.
We haven't tested these pieces of software personally, but after reviewing their features and help videos, we can see that they usually provide very similar functionality for managing reviews. So we believe the biggest differences will be the usability of the app, and their design. But we still recommend creating a trial for the apps that seem to suit you best, so you can have a play and determine whether they are right for you.
NiceJob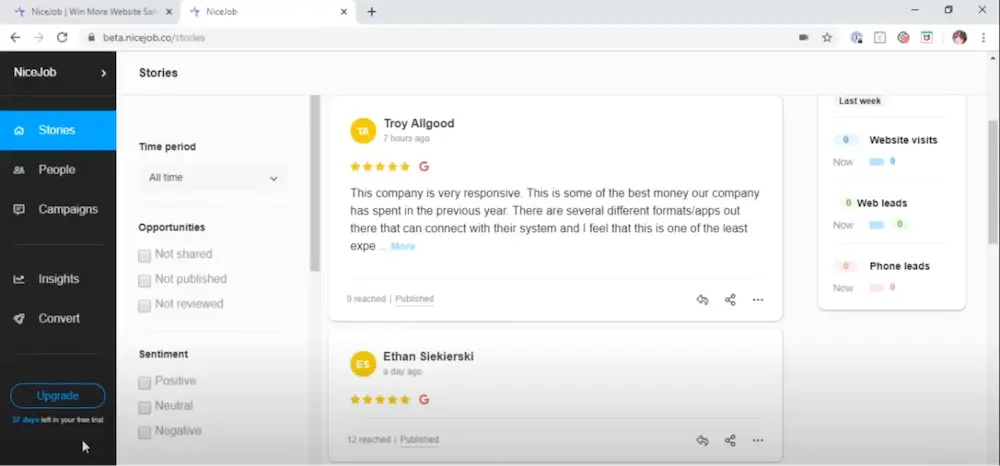 Customer reviews: 4.9 (137 people)
Cost (AUD): $100 p/month
Website
NiceJob is a reputation management tool that allows you to manage reviews, engage with customers, and request referrals. On the review side of things, NiceJob believes that SMS is the most effective way to collect reviews, so they start their campaigns with that. If the customer doesn't respond, you can send up to three follow up reminders via email, which are a "gentler" reminder rather than being bombarded with more text messages.
You can reply to reviews straight from the NiceJob dashboard, and quickly share them to social media. Another good feature of NiceJob is being able to display "trust widgets" on your website, which shows your average ratings for the various review platforms like Google Business. This social proof can work wonders for lead generation.
Yotpo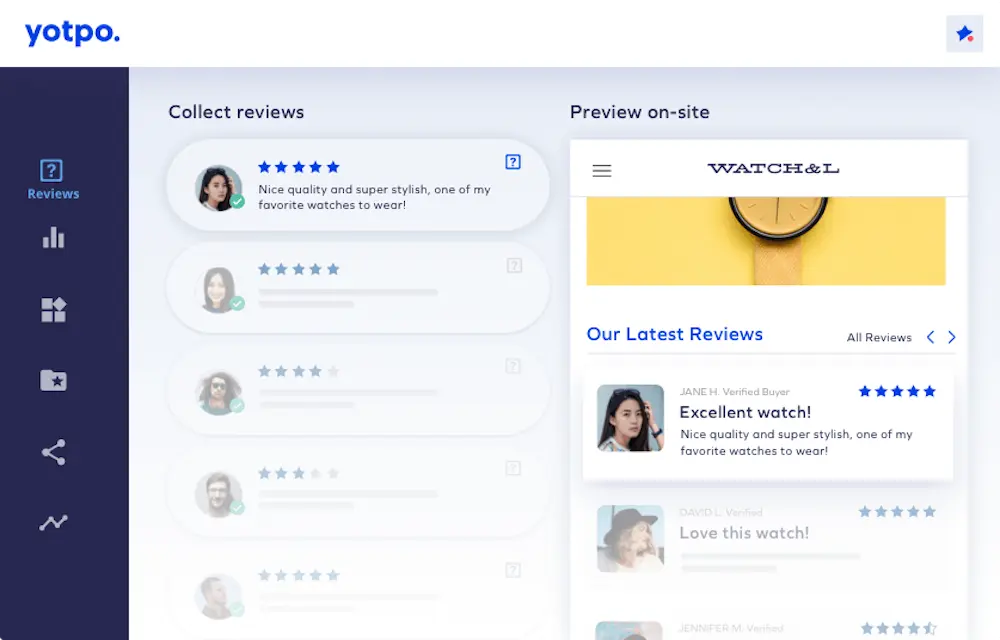 Image from Yotpo
Customer reviews: 4.6 (303 people)
Cost (AUD): $170 p/month
Website
Yotpo bills itself as an eCommerce marketing platform, which allows you to manage customer reviews, loyalty programs, referrals, and visual marketing. It's focused entirely on eCommerce, allowing customers to provide easy reviews for specific products rather than entire companies. It handles both SMS and email review requests, provides additional options like "good fit," "comfortable," and others that are specific to the product, and also image and video uploads to accompany the review. If you're wanting to get more 5-star reviews for your eCommerce products, Yotpo is probably the system for you.
ReviewTrackers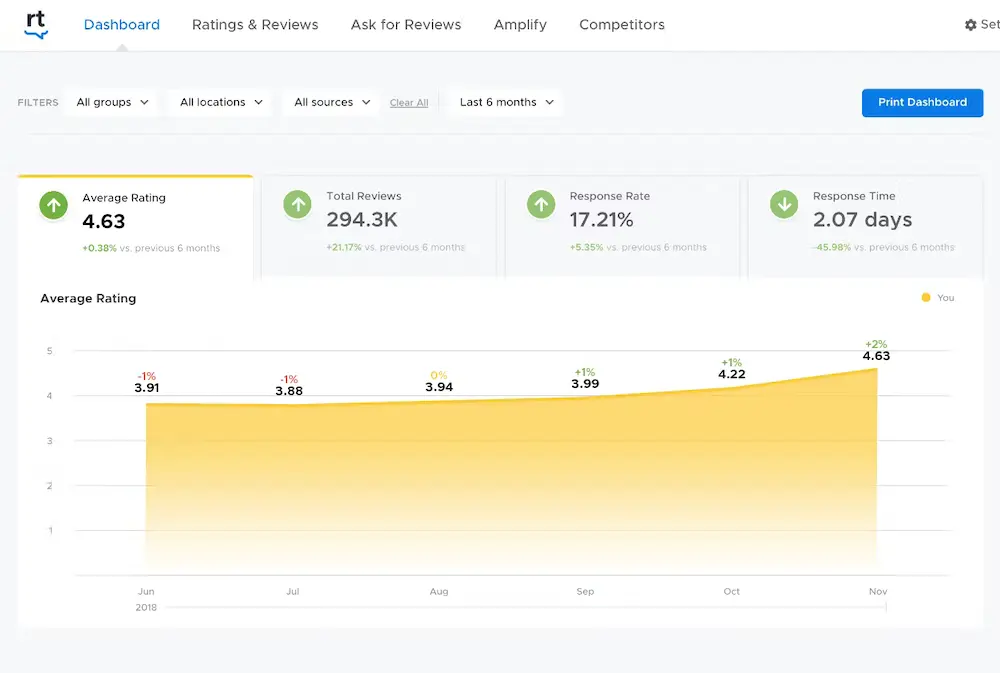 Image from GetApp
Customer reviews: 4.6 (129 people)
Cost (AUD): $100 p/month
Website
ReviewTrackers is an affordable review management app that has all of the essential features needed to get more reviews from customers. Reviews can be easily accessed and responded to in the system, and managers can access all of the necessary campaign reports to see how things are going. Because of its price and value for money, this app might be a good option for smaller businesses.
Proponents of the sofTWARE believe that it's easy to set up with plenty of online documentation, an active online community, and a great way to keep your reviews consistent across each platform.
Podium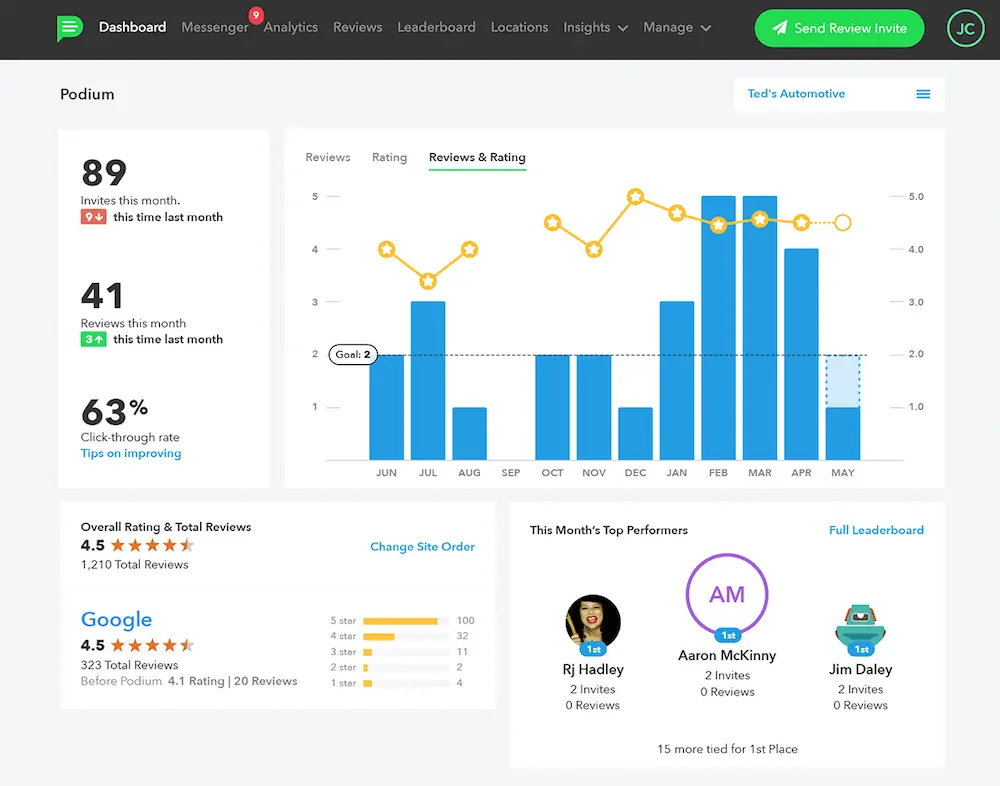 Image from Software Advice
Customer reviews: 4.4 (425 people)
Cost (AUD): $340 p/month
Website
Podium is a reputation management app with a broad variety of features, including review management, customer interactions through text and video, and taking credit card payments. In this sense, it's the "broadest" software in this list, which makes it the most expensive.
Podium is built around messaging only. It's designed to make communication easier with customers by keeping all messages on one channel: SMS. That means its "request a review" feature works solely on SMS, with the system sending a message asking for a review and follow-up reminders if the customer doesn't respond. They can then easily leave a review on the platform of their choice.
BirdEye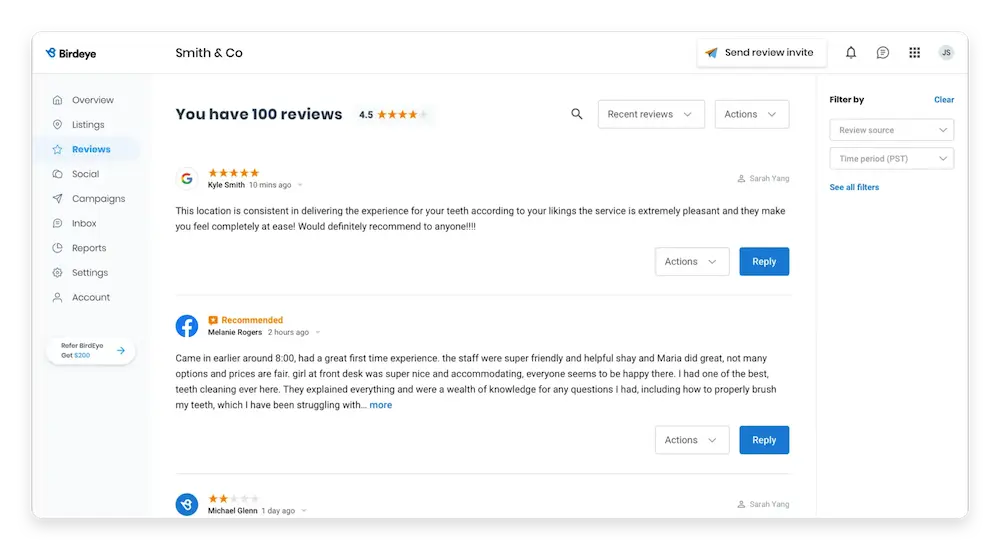 Image from Birdeye
Customer reviews: 4.7 (438 people)
Cost (AUD): $420 p/month
Website
As with Podium, BirdEye is an SMS based app that allows you to collect and manage reviews, get referrals, request surveys, and message your customers easily. It also allows collection of payments for your website.
On the review side of things, it has the standard automated features for requesting reviews, and allowing customers to submit them to the platform of their choice. These reviews can be easily managed and responded to in BirdEye's dashboard, which is one of the most beautiful in our list. But you'll pay a heavy price for this software, so be sure to create a trial and play around with its other features before making the commitment.
GetMoreReviews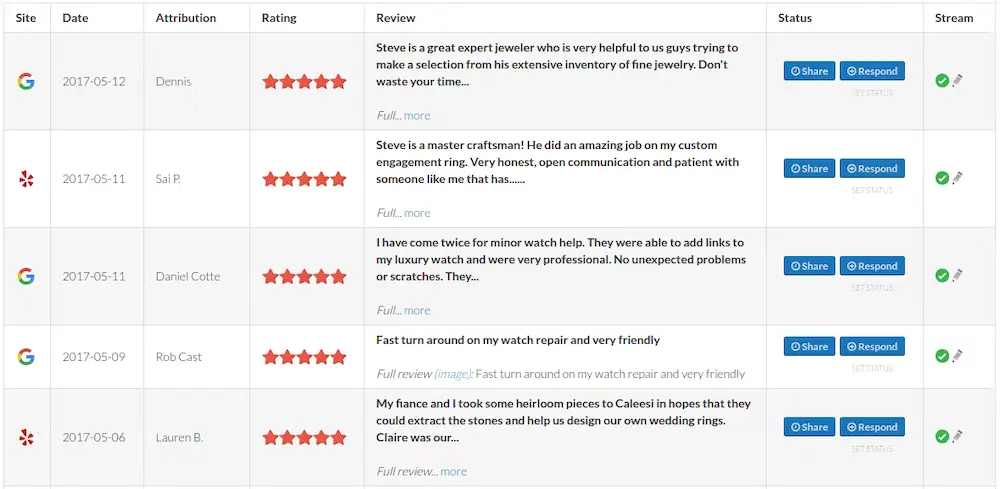 Image from Software Advice
Customer reviews: 4.7 (129 people)
Cost (AUD): $140 p/month
Website
GetMoreReviews is an app that focuses solely on acquiring and managing customer reviews. It integrates with 50+ review sites, including the most popular. You can send review requests using both email and SMS, and customers can select the platform they want to use, and leave a review directly on there. Reminders can also be easily set up and sent to customers.
Supporters of the software say that it's easy to set up, simple, and a cost-effective way to get more reviews. It's lacking some of the additional features of other apps in our list, but it does have the essential features you need for review management software.
Customer review software compared | Features, price, reviews
Here's a breakdown of the price, reviews and features of our six customer review software apps:
Get More Reviews
NiceJob
Podium
Yotpo
Review Trackers

BirdEye

Price (p/month AUD)
$140
$100
$340
$170
$100
$420
Customer reviews
4.7

(129)

4.9

(137)

4.4

(425)

4.6

(303)

4.6

(129)

4.7

(438)

Google reviews
✅
✅
✅
✅
✅
✅
Facebook reviews
✅
✅
✅
✅
✅
✅
Automated review requests

Ask customers to leave a review

✅
✅
✅
✅
✅
✅
Review reminders

Remind customers to leave a review if they haven't already

✅
✅
✅
✅
✅
✅
Photos

Increase review power with photos

❌
✅
✅
✅
❌
✅
SMS

Request reviews via text message

✅
✅
✅
✅
✅
✅
Review monitoring

Get alerts for new reviews

✅
✅
✅
✅
✅
✅
Campaigns

Create and track campaigns with specific goals

✅
✅
✅
✅
✅
✅
Social posting
✅
✅
✅
✅
✅
✅
Manage negative feedback
✅
✅
✅
✅
✅
✅
Show latest reviews on website

Feed the latest customer reviews through to your website

✅
❌
❌
✅
❌
❌
Multi-location support

Customers can leave reviews for specific branches

✅
❌
✅
❌

✅

✅

Reporting
✅
✅
✅
✅
✅
✅
Free trial
14 days
14 days
14 days
Unlimited free plan
60 days
30 days
Google review software—summary
Customer reviews are essential but slow and tricky to obtain manually. Google review software (better known as reputation management software) allows you to automate the review process and encourage people to leave feedback on the most popular review platforms. In theory, if you're offering high-quality products or services that your customers love, you can sit back and watch the 5-star reviews roll in.