Get More Clicks With Google SEO Rich Snippets
Ever used those handy little widgets that appear at the top of Google's search results? They can show stuff like recipes, businesses, and events right on the page, without having to click into any websites to get more information. Those are rich snippets, and they can generate a lot more clicks for your business, and better SEO as a result.
So how do they work? In this article, we'll explore what Google SEO rich snippets are, and how you can encourage the search engine to use them for your website's content.
What are Google rich snippets?
Google rich snippets are fragments of web pages displayed in a user-friendly way, directly in the search results page (usually at the top). Common examples include local businesses displayed as horizontal "cards," videos including thumbnails, and reviews which show as star ratings at the bottom of regular text listings.
As an example, here's how rich snippets for local events currently show: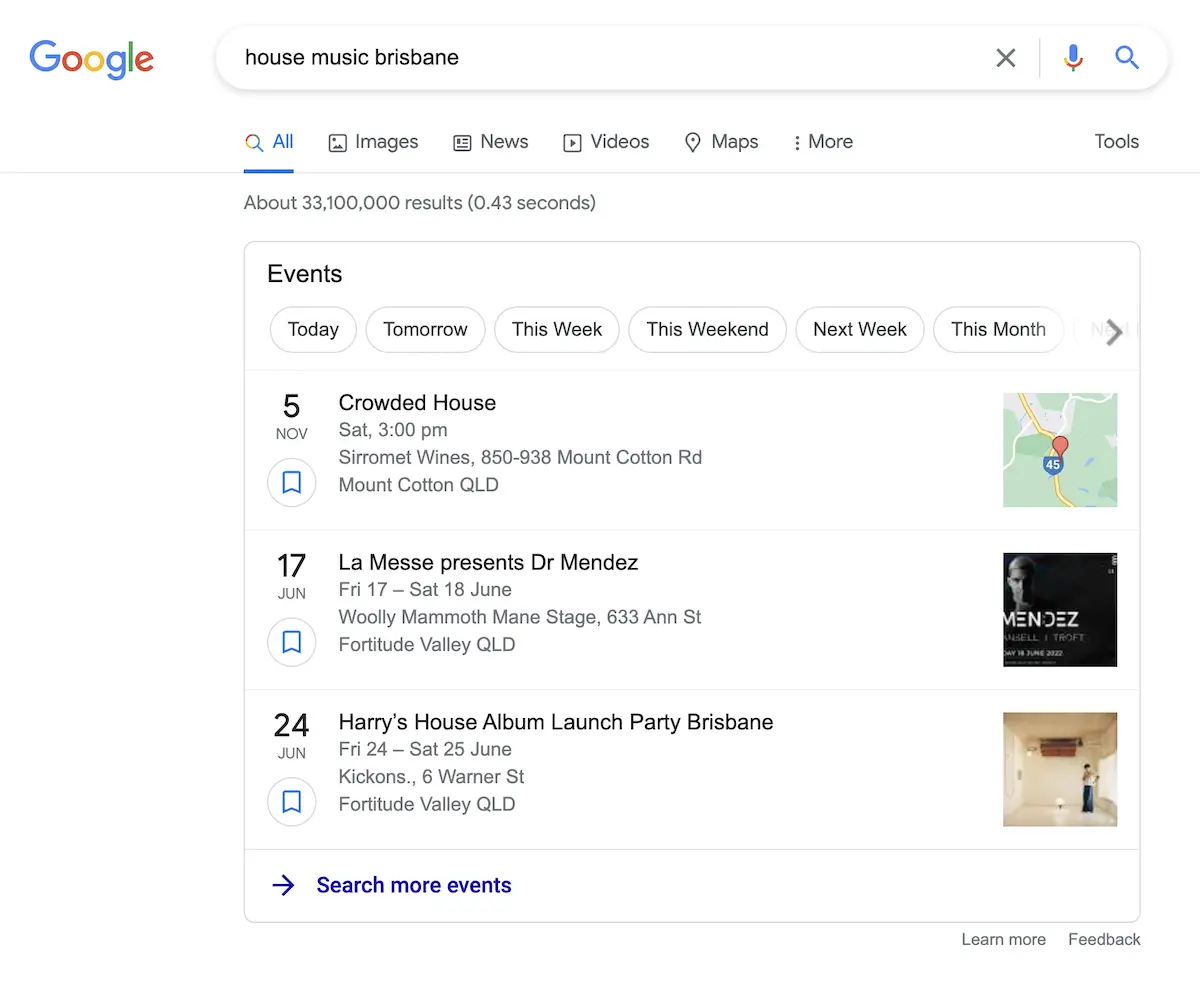 As you can see, these rich snippets are extremely useful for the user because they include key information like the names of the event, their dates, and their locations, allowing them to get an immediate glimpse of what's on offer. They can click into an event to find more information on the website, or use the date filter to find events on different dates.
Every type of snippet is displayed in its own way and with its own essential content, providing the user with a more direct and compelling way to find what they're looking for. The result is a much better user experience because the information is easier to find and consume, and if they want to find out more, they can usually click on the snippet. This crucial feature has pretty much become standard for Google at this point—for mobile, rich snippets have doubled since 2018,2 and this will probably continue rising.
Because rich snippets often appear at the top of the page, they are the first thing that users see. Their design can also include images, bold text, and other styles laid out in an attractive way, which makes them even more eye-catching. For businesses who have achieved rich snippets in Google, they should see higher click-through rates (CTR) to their websites, which is why they are so coveted. Businesses who haven't achieved rich snippets will see their CTRs take a hit, because the user often finds the information they are looking for in the snippets themselves without having to click through to any other websites.
In addition to this, product rich snippets can also help to qualify leads because they provide key product information like price and customer reviews, which allows them to make a more informed decision about whether they should click through to the product.
From an SEO perspective, rich snippets are not currently considered to be a ranking signal,1 so attaining them will not boost rankings for your website. However, rich snippets should help to increase your CTR, which definitely is a ranking signal, so they may help to boost your SEO indirectly. Also, Google's chief Search Advocate John Mueller has confirmed that they may eventually be included in their ranking algorithm, so achieving rich snippets in Google may directly increase your ranking at some point, creating more compelling reasons to aim for them.
For Google to display your web page content as rich snippets, they usually need to be given the content as structured data. This is a form of microdata (code) that uses a vocabulary called Schema, which gives Google the exact data it needs, in the exact format it needs (JSON-LD). As you might have guessed, you'll likely need the help of a developer to do this, although there are some generator tools you can use if you're comfortable with manually placing the code in the footer of your web pages. By using Google's structured data format, it doesn't have to guess which sections of content are relevant for their snippets, and so increases the chance of them choosing to show them for your content. Web pages certainly can be featured in rich snippets without structured data, but why not give yourself the best possible chance? We'll discuss how to add structured data later in the article, but first, let's quickly explore some popular types of rich snippets.
Common types of Google rich snippets
Now that we know what rich snippets are, we can go into more detail about the various types that Google shows in its search results. Below are some of the most common types of rich snippets, but you can find the full list on the Schema website, including the attributes for each.
Video
We consume a lot of videos online, and rich snippets allow us to find them more easily. As you can see from the image below, a selection of videos are usually presented, including key moments that you can navigate to, and filters for adding other keywords that are relevant to your query.
If you regularly create videos as part of your content marketing strategy, achieving a rich snippet may result in your views skyrocketing, especially if you get the number one spot.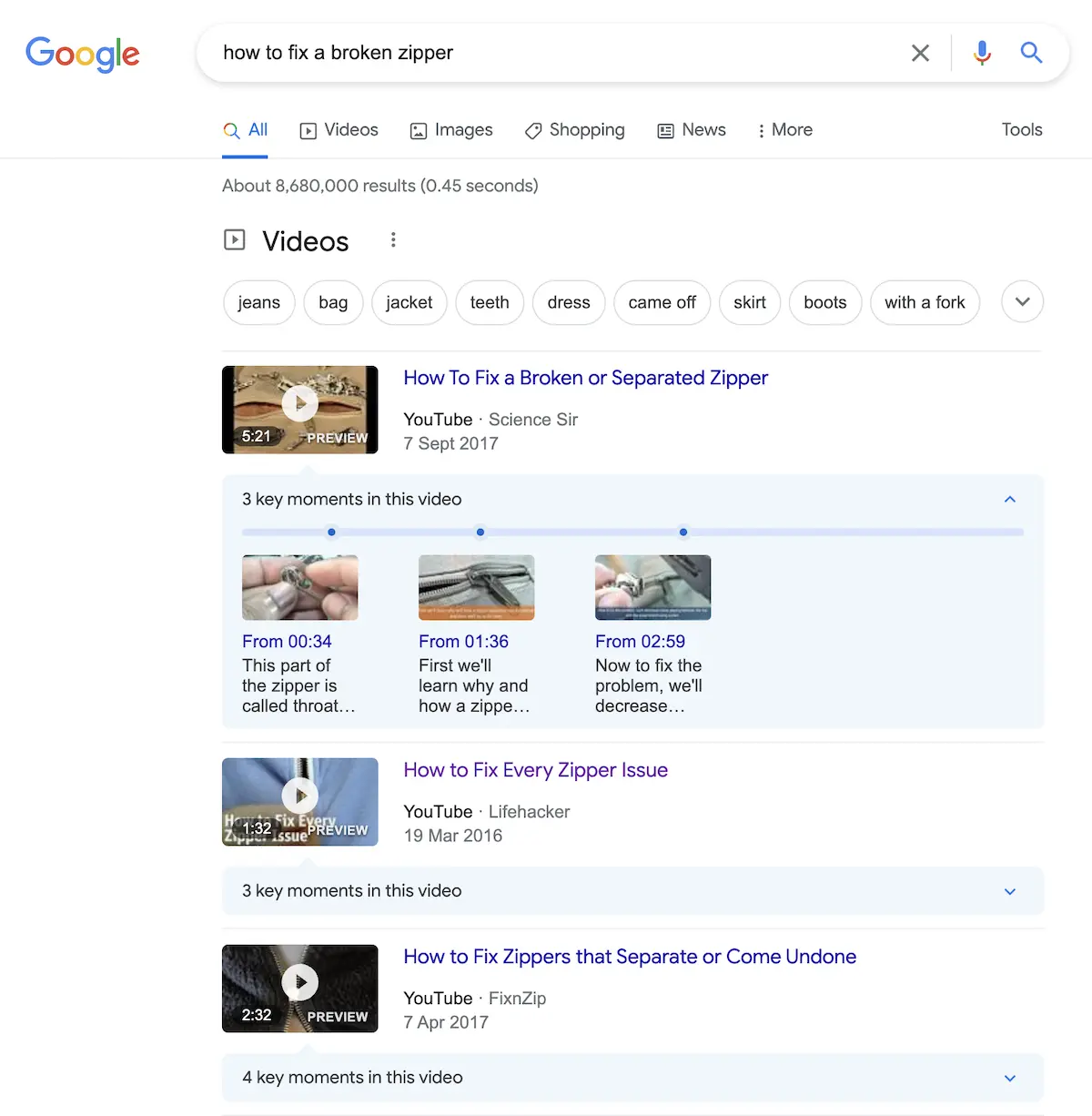 Reviews/ratings
Customer reviews are a powerful form of social proof that can strongly influence our decision to buy products or services. Google includes average ratings for products at the bottom of each listing, so that users can immediately get an idea of how happy people are with their purchases.
These ratings can show for pretty much anything that can be reviewed—clothing, car rentals, TV shows, and more.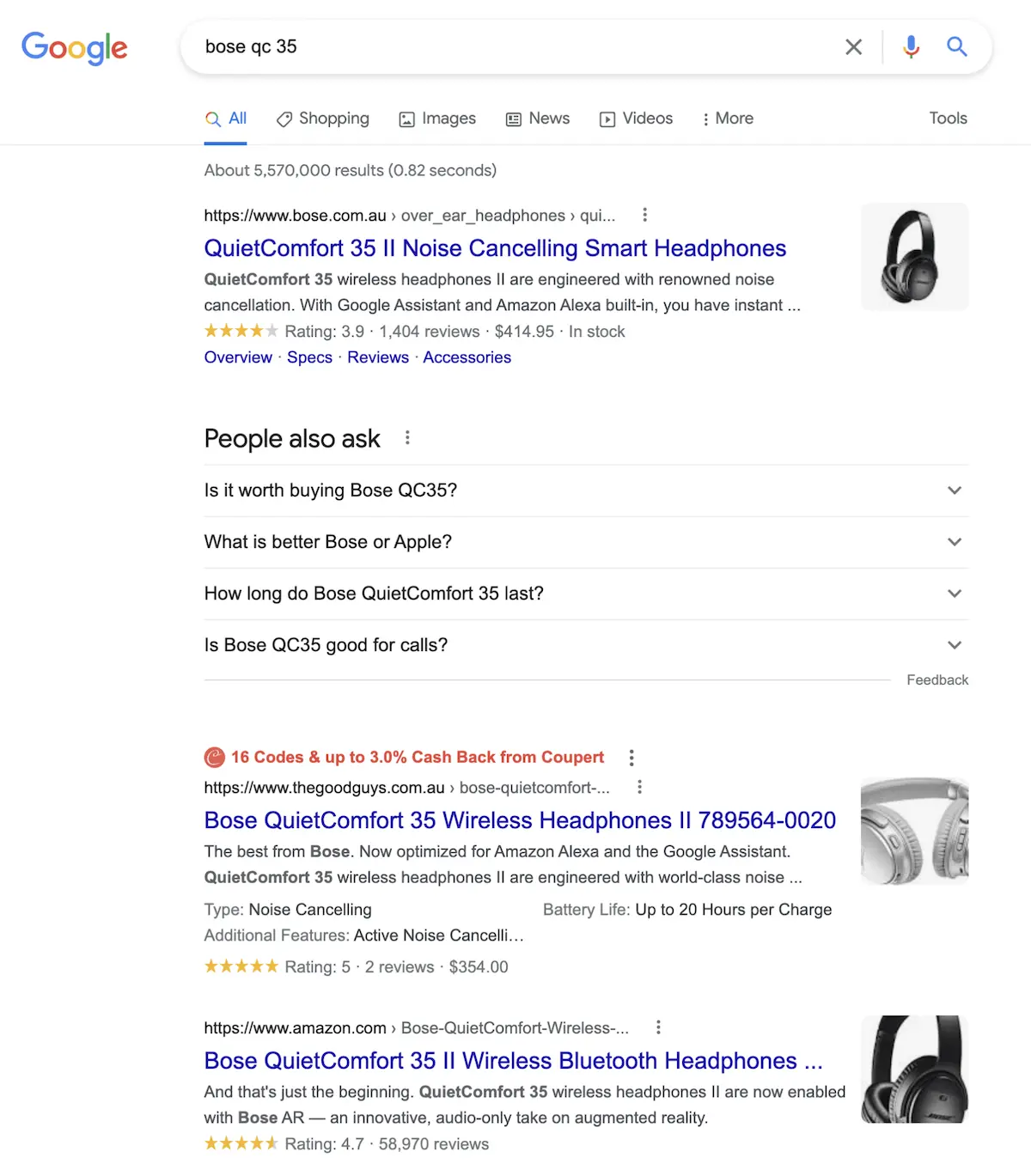 Local businesses
Another highly popular rich snippet is for local businesses, which display directly in Google and allow users to find a nearby company. The snippet usually includes the business name, star rating, opening times, phone numbers, and an image (if appropriate), as shown in the image below. Google may also decide to show a map with the business locations included, allowing the user to alter the location to find more options.
To feature highly in these listings, you'll need to optimise your Google Business profile—a form of local SEO that can have immense rewards.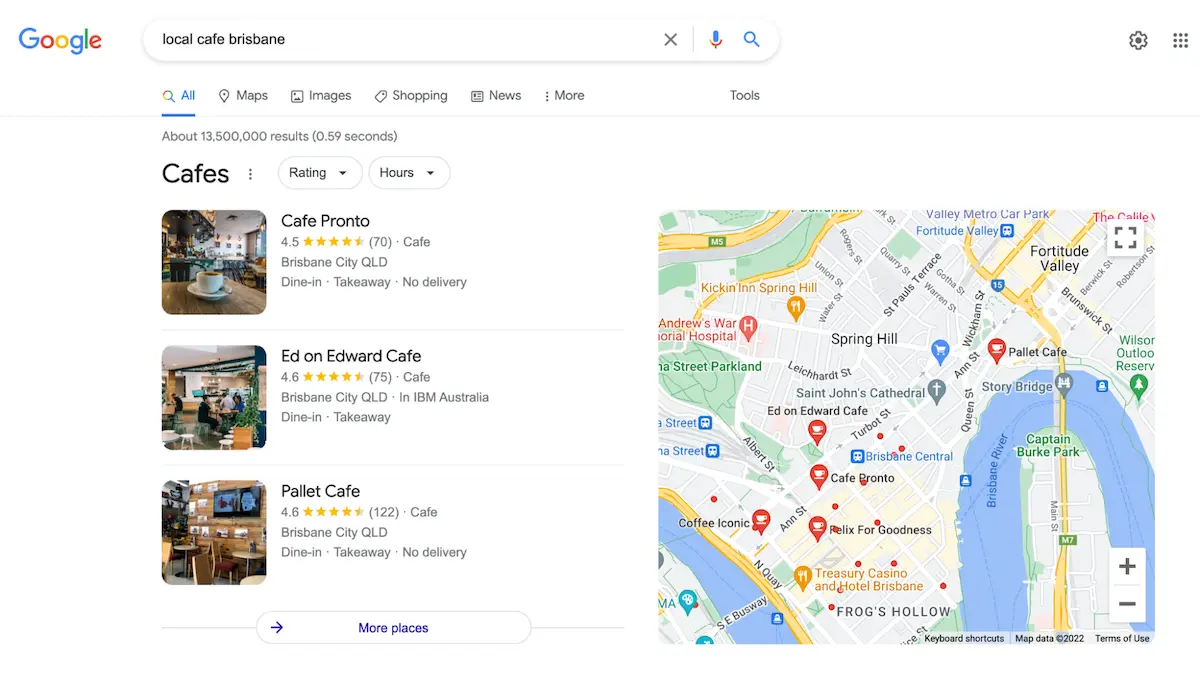 Recipes
Gone are the days of digging into gigantic cookbooks to find recipes. Most of us just whip open our phone and search for whichever recipe we're after, and Google accommodates us by displaying a selection of them as rich snippets. They include an image, recipe name, website, reviews, time to make, and also some ingredients. If we like what we see, we can click into the recipe to get cracking.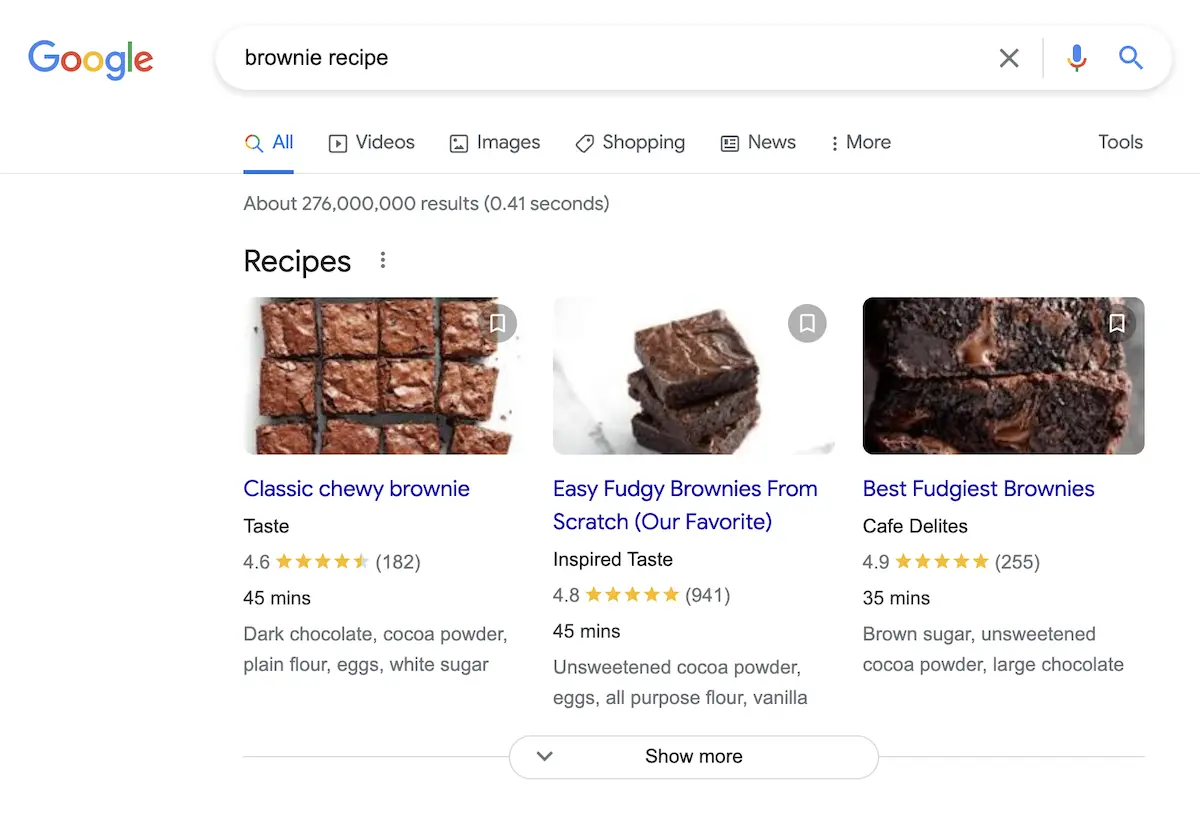 Products
Product rich snippets are a way to include important information like price, stock availability, and star ratings, which give people a broader depth of data when trying to find the right product, and makes it easier for them to select one. This information appears at the bottom of Google's regular text listings, as shown below.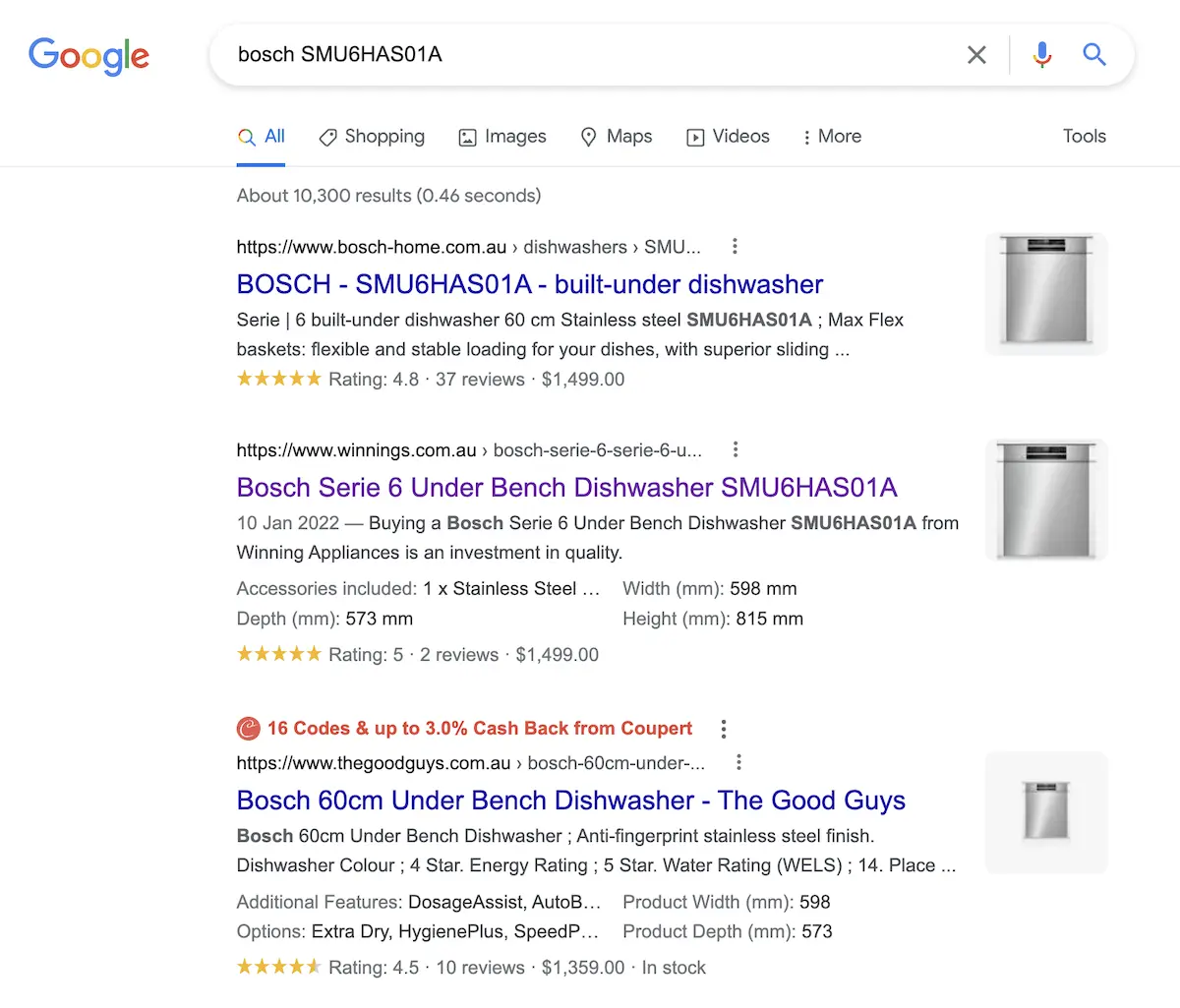 Events
As shown in the introduction, Google shows local events as rich snippets, which allows people to quickly see what's on and click into them for more information.
How to enable Google SEO rich snippets for your website
With clear improvements to click-through rates and SEO, you'll obviously want to enable Google rich snippets for your website. But before you do, you will need to identify the information on your website that are good candidates for rich snippets, like products, reviews, and events. Then you'll need to make sure that the information is formatted in a way that Google wants—for example, if your products have an age group, this needs to be formatted as a number, not text. You can get all of this information from the Schema website.
Once you know what you want to target, and your data is formatted correctly according to the Schema standards, you can enable Google SEO rich snippets in two different ways:
Method #1—Code the structured data
As mentioned above, for Google to display your web page content as rich snippets, that content needs to be coded as structured data on the page. They have some excellent documentation on how structured data works, which your developer should be able to follow without any issues.
Alternatively, if you're not a developer, you can try using a Schema markup generator to create the correct code, which then needs to be added to the footer of the relevant web page (before the closing body tag). But things get complex if your web pages are pulling information dynamically from databases, which is highly likely if your website was developed in the last 20 years.
Method #2—Use a rich snippet plugin
If you are using a content management system such as WordPress, Wix, or Drupal, you may be able to install a premade plugin that allows you to set rich snippets for each page, without needing to code anything. Just search in your system's plugin library for "rich snippets" or "structured data" to see which options are available to you.
For WordPress, some popular options include All In One Schema Rich Snippets, Taqyeem, and WP Review Pro. Of course, it's usually good to try a few options and figure out which is best before committing.
It's also worth mentioning that even if you go through the steps to enable rich snippets correctly, there's no guarantee that Google will use it. But it massively improves your chances, especially if you're also running an SEO campaign at the same time that boosts your website's ranking. The better your SEO, the more chance your content will have of being used in one of Google's valuable rich snippets.
The only Google rich snippet tool you need
Once your rich snippets are set up, you'll need to validate them through Google's rich snippet tool. All you need to do is enter the URL for a web page, and you'll be able to see which structured data Google has detected (products, breadcrumbs, logo, etc.), which specific attributes they have detected, and which attributes are missing. You can then fix any issues and re-validate once done.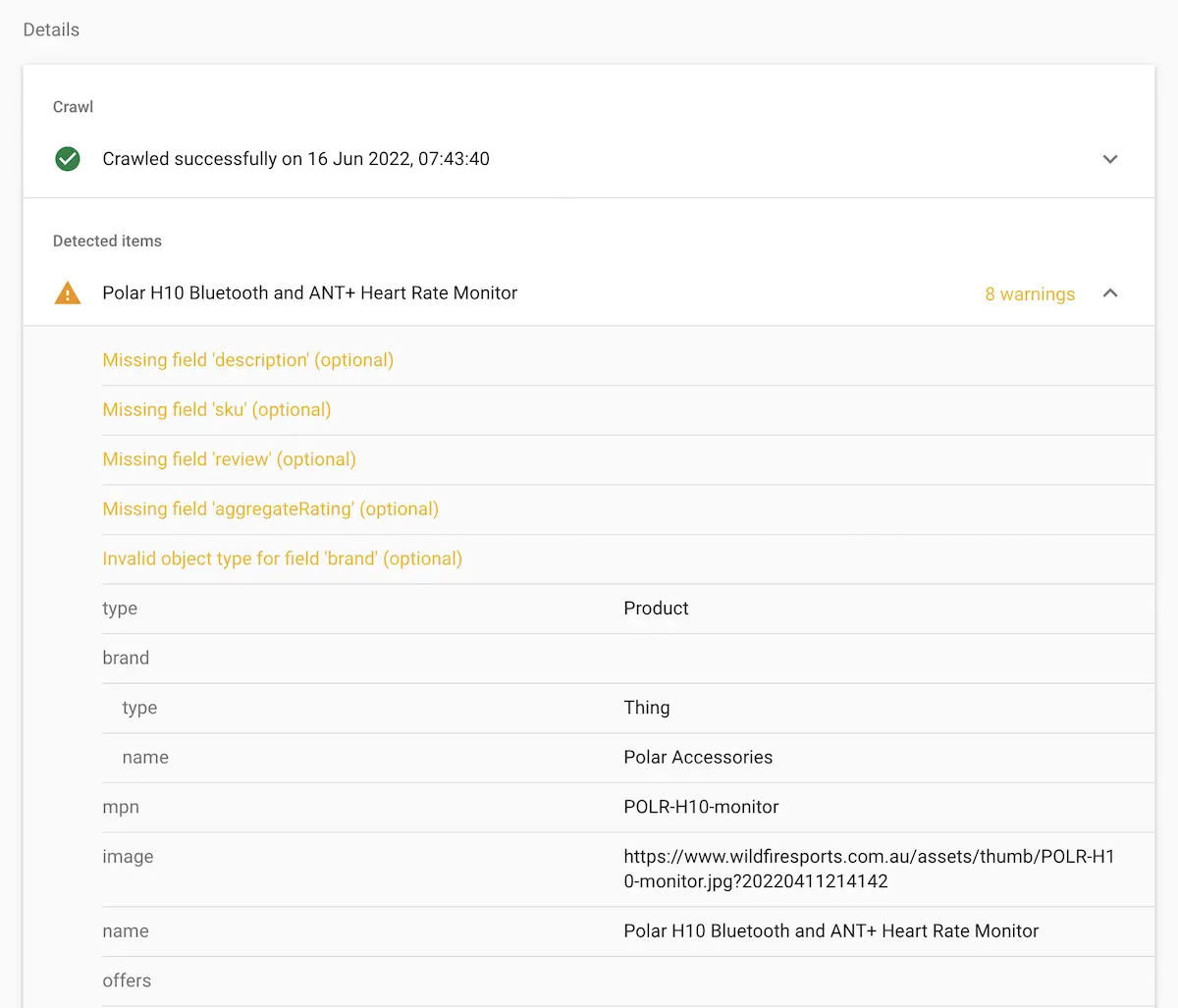 Google's rich snippet tool shows you the detected structured data, their attributes, and any data that is missing from your web page
Ideally, you'll want to run every type of page rather than every individual page. For example, if you run an ecommerce website, you should only need to run one specific product, one category page, one brand page, and then all of your other single pages like the home page, about page, contact page, etc. Of course, this only works if your data is thorough. If there's particular products that have information missing, this won't get picked up because you won't be validating them. So once you've validated one product and discovered which attributes might be missing, it's worth checking the data for all of your products to ensure they have everything that Google needs. The same goes for your category and brand pages. This can clearly take a long time, but again, the rewards can be high if Google starts to feature your content as rich snippets.
Google SEO rich snippets—summary
Google SEO rich snippets are a way for users to find information more quickly, without having to click through to any websites. If you take the time to round out your website's data, and then markup that information using structured data, Google may decide to include it in one of their rich snippets, and you can expect plenty more clicks. It can be a time-consuming exercise, but infinitely valuable.
References
Barry Schwartz, 2018, Google: Structured Data Doesn't Give You A Ranking Boost But Can Help Rankings, Search Engine Roundtable
George Nguyen, 2019, Rich answers in Google mobile search more than doubled since 2018, study finds, Search Engine Land