Image Copyright Simplified—What You Can & Can't Do
It's easy to download an image from the internet and post it on your website or social account. But unless you've found the original source of the image and taken the time to understand its copyright terms, what you're doing is probably illegal.
Every original image that is produced is automatically copyrighted, so it's important to understand your obligations when using other people's imagery. It's equally important for image creators to understand how they are protected. In this article, we explore the basics of copyright law, how it works on social media, and what you can do to protect yourself.
Before we jump in, we want to make it clear that we are not lawyers, and this article should not be taken in place of legal advice. If you're unsure about whether you have the right to use an image, the safest answer you'll get is from a copyright lawyer. But we are sensible people with a good understanding of copyright basics, so our advice is solid.
How does image copyright work?
When someone creates an image, it's automatically copyrighted under the Australian Copyright Act. That means in most cases, you can't use it unless the owner gives you permission. If granted, this permission is usually found on the owner's website, and outlines their conditions such as not editing the image, or receiving payment for its use. These conditions are entirely up to the copyright owner, which gives them full control over how they'd like their work to be used.
If you'd like to use an image from Google's image search, it's extremely difficult to find the original owner and request copyright. Often, the website where the image is hosted is not the original owner, and they may have breached copyright law by taking it from another website and placing it on their own. You can use a service called TinEye to show which websites use the image, but there's usually hundreds of results and no guarantee you'll be able to find the original owner. The same goes for when you lift an image directly from a website. Unless you can find copyright information alongside the image, or are able to track down the original copyright owner, you almost certainly can't use it.
There are exceptions to this hard rule, which are called "fair dealing" in Australian copyright legislation. These exceptions state that you should be able use an image without permission for the following types of media:
Research or studies
Criticism or reviews
Parodies or satire
Enabling a person with a disability to access the material
With professional advice from a lawyer, patent attorney, or trade mark attorney
But law is open to interpretation, and a clever lawyer may make a winning argument in court that goes against these exceptions. "Fair dealing" might include considerations such as whether the image is being used for commercial purposes, or whether the copyright owner is out of pocket. So it's always safe to speak to a copyright lawyer before you decide to use an image without permission, which is expensive, and the reason why people often just use images from stock websites instead, which provide clear usage rules.
What is Creative Commons? And how does it work alongside copyright law?
Many content creators are happy for other people to use their work, but would like to state conditions for its use, such as whether the image can be used for commercial gain. To do this, they would have to read and understand the copyright legislation of their country, and state their conditions in a way that would cover them appropriately. This is obviously difficult, which is where Creative Commons comes in.
Creative Commons is licensing that allows content creators to share their work more easily, while adhering to copyright law. A content creator can browse the simplified terms for the six Creative Commons licences, pick one that suits them, and then display the details of that licence alongside the image on their website. They don't need to register for the licence or pay for it.
This is also great for people who would like to use an image protected by copyright, because the details of the Creative Commons licence are easy to understand. They outline crucial information such as:
How the image can be used
The types of places that image can be used (i.e. for commercial purposes)
Whether the image can be copied
How to attribute the creator of the image (this is mandatory for all Creative Commons licences)
If an image has a Creative Commons licence applied to it, it can always be used by other people, provided it is attributed (a reference link back to the original source). But the devil is in the details, so you'll need to understand the unique conditions of the licence to determine if it's legal for your particular situation.
How image copyright works on social media
The exact same copyright rules apply on social media—you can assume that every image is copyrighted, and should not be included in original posts on social media without finding the owner of the image, understanding its copyright rules, and potentially requesting permission from the owner themselves. This includes edited versions of the images, like adding text over the top of them to create memes.
The copyright rules may be different if you'd like to share someone else's post that contains an image—called "curated content" in marketing terms. In this case, because you're not the original person who created the post, you may not be bound by copyright law, and can happily share it without problems. However, these rules may be unique for every social media platform, so you'll need to do some more research before deciding whether to take the risk.
If you're a content creator and have shared one of your original images on social media, other people may be able to embed your post on their website without requesting permission to use the image. When someone embeds a social media post, they're essentially taking the post directly from the social media's servers and putting it onto their website, which means that the post and copyrighted image is not hosted by themselves. So they may be able to embed it freely because the copyright onus is on the social media platform.
Depending on their terms and conditions, a social media platform may also be able to sell a copyrighted image, or give permission to other companies to use it freely.1 Again, this is entirely dependent on the social media's image use policies, so it's worth checking them before deciding to share your precious work.
How to check copyright images
As mentioned above, pretty much every image is protected by copyright law. So it's safe to assume that the image you want to use is protected, and you must adhere to the copyright rules outlined by Australian law, as well as any conditions the creator has declared.
If you'd like to find copyright conditions for a particular image, it can be difficult finding the original owner. But there's a few ways you can try:
Look for a watermark on the image—sometimes content creators add watermarks or credit to their images, which can lead you back to the original source.
Use TinEye—TinEye shows a selection of websites where the image is used online. You can sort these results by "oldest," and potentially find the original owner.
Check the metadata for the image—metadata is information about the image, such as its type, size, and creation date. Sometimes, the image's creator will include their information in the metadata. You can find this information by downloading the image, right-clicking on it, and choosing "Get Info" ("Properties" if you're using Windows).
How to search for copyright free images
There's two easy ways to find "copyright free" images (i.e. images you can use legally): through stock image websites, or using the "free to use" setting on Google's image search.
Stock images
Stock image websites are plentiful, and have enormous collections of photographs, illustrations, and videos that you can use without worrying about copyright. This includes both free and paid images.
Here are some of the most popular free stock image websites:
Here are some of the best paid stock image websites:
Google's "free to use" image search
While you should never steal images directly from Google's image search, there's a "usage rights" setting that allows you to find images that have Creative Commons licences, which are often free to use (although you'll need to check the conditions listed on the image's website).
To find this setting, complete the following steps:
Search for your desired image in Google, i.e. "tigers"
Click on the "Images" link
Click on the "Tools" button on the right-hand side
Click on the "Usage Rights" link, and select "Creative Commons licenses"
Here's how it looks: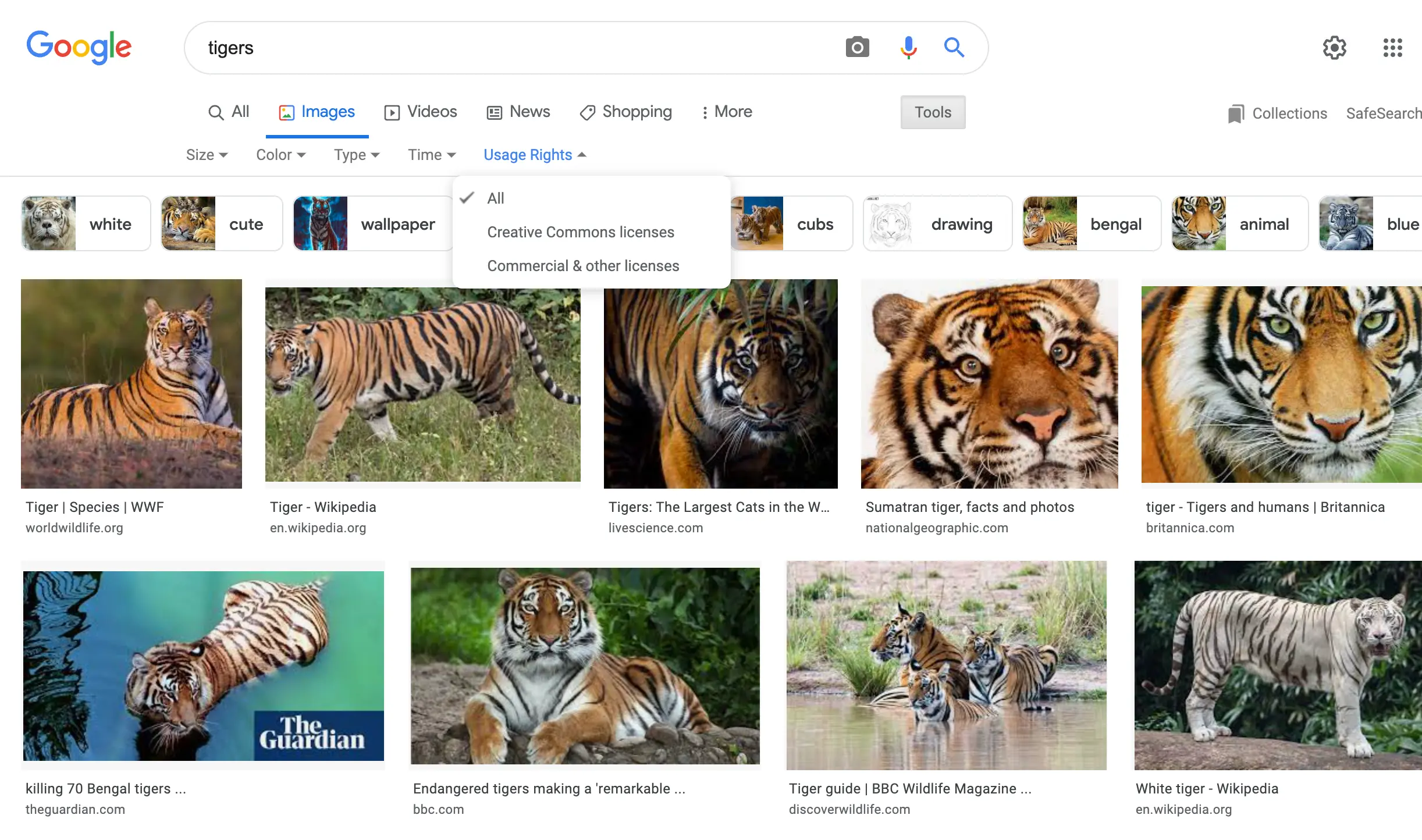 FAQs – Image Copyright
Are stock images copyrighted?
Stock images are copyrighted in the same way as every other image, but they come with special licences that determine how the image can be used. When buying stock imagery, you should fully understand the terms of the licence so that your specific usage is legal. But usually, the standard licence for stock images is that you can use it pretty much anywhere.
Do you have to reference copyright free images?
There's technically no such thing as a copyright free image. The term "copyright free image" usually means that the creator will allow you to use the image without paying for it, but requires attribution (a reference link back to the image's original URL). As always, be sure to read the copyright terms that should be accompanied with the image.
Are Canva images copyright free?
According to Canva's Free Media License Agreement, all free photos on their platform can be used for free for both commercial and non-commercial use, without requiring attribution. This may change if there is an identifiable person, place, logo, or trademark in the image, whereby Canva recommends that you check the image source for the exact copyright terms.
If you'd like to learn more about how to get your images ranking in search engines, check out our guide on SEO image optimisation.
References
2020, Copyright law in the age of Social Media | Legal Services, Griffin Legal