The 4 Most Important Social Media Metrics To Measure [Guide]
Social media can seem like a complex beast, but if you know how to tame it, it can create vast amounts of revenue for your business. In this article, we'll explore the 4 social media metrics that matter the most to your business including:
By regularly measuring your social media metrics that align with your goals, you can transform social media from an intimidating beast that costs you a fortune, into an agreeable critter that generates large amounts of revenue.
Social media metrics—what are your goals?
Before we jump into our social media metrics, we need to talk about goals. Most business owners understand the awesome potential of social media, but despite this, it's often approached halfheartedly, without a strategy to make it work. For a business without a plan, social media is messy, time-consuming, and expensive. But for those who have committed the time to create a meticulous, considered strategy, which clearly outlines their business goals, target audience, resources, and processes, social media can be deliciously lucrative.
Goals are necessary to measure success, and for a social media strategy, some common goals include:
Growing the brand
Generating leads and sales
Turning customers into advocates
Improving customer retention
Your goals should reflect your overall business objectives. You may even have unique goals for each social network.
Once you've outlined your goals (ideally, an entire strategy), you can start to measure your success using the social media marketing metrics below.
Key social media metrics to measure success
These are the key social media metrics to measure success, so you can understand what's working for you.
1. Facebook reach
Facebook reach is the number of unique people who have seen your content. Essentially, it's the size of your audience and reveals how much potential your content has.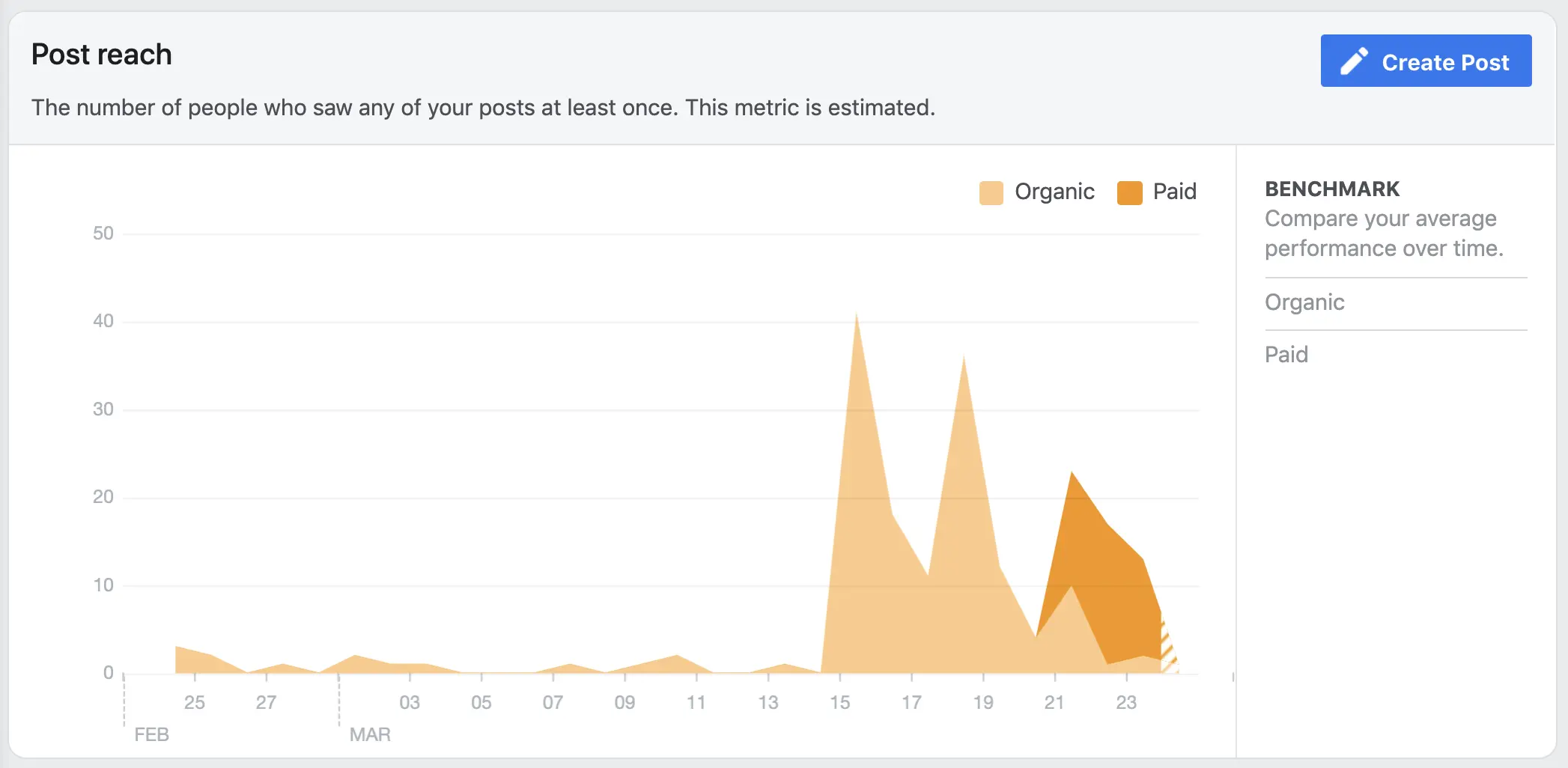 Reach in Facebook
The higher your reach, the greater your potential to meet your goals, whatever they may be. If you're creating content that people are engaging with, the social network will promote the content to more of your followers, increasing its potential for success. For this reason, it's worth keeping an eye on reach for individual pieces of content, as it helps to reveal what's working, and what isn't. When combined with social media engagement metrics such as shares, comments, and likes, you can slowly unearth a formula that works for your audience.
2. Engagement is a key social media metric
Social media engagement metrics are important for two reasons: they describe how engaging your content is, and its potential reach. When people are sharing, commenting, and liking your content, it's clearly resonating with your audience, which prompts the social network to promote the content further, expanding its reach.
Clicks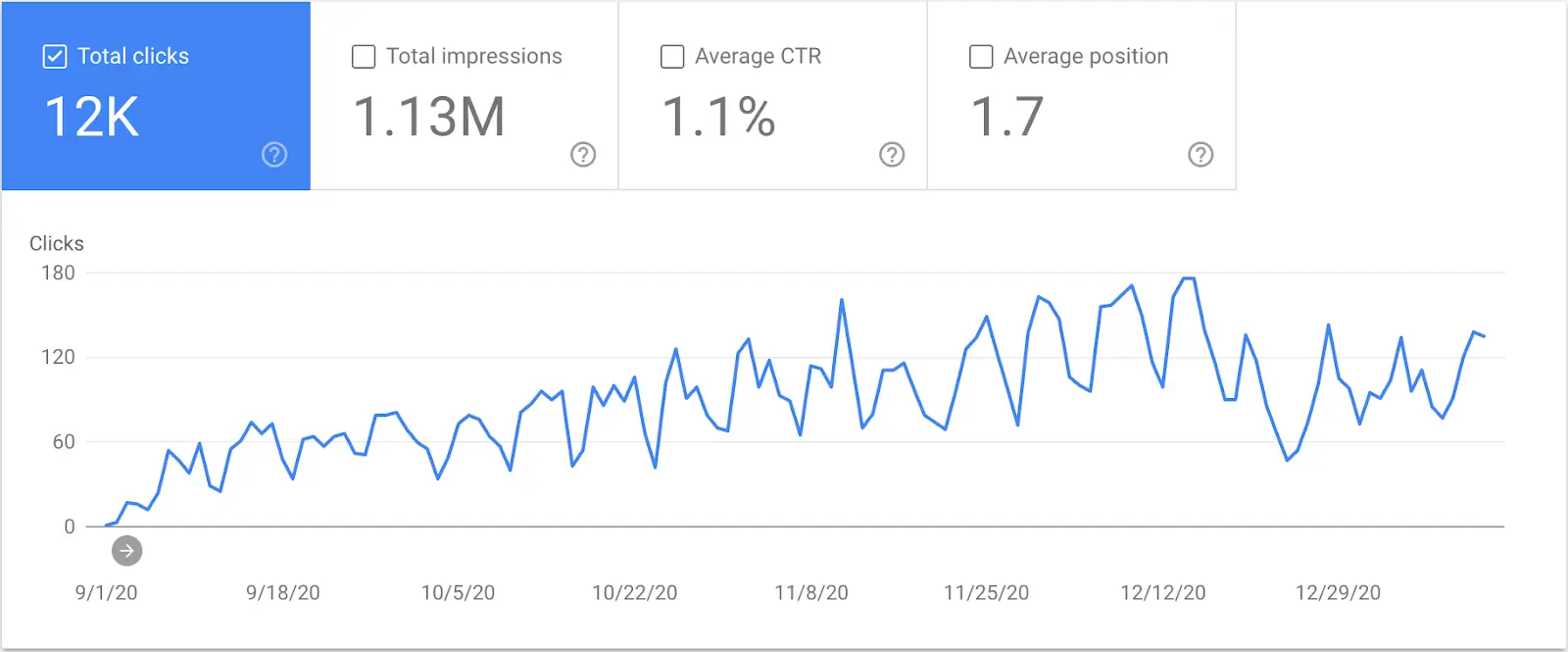 Clicks in Google Search Console
If you're trying to generate leads and sales, clicks are a critical social media engagement metric to measure. If a solid percentage of people who have seen your post decide to click on it (measured as CTR, more on this below), you can assume that you've created an engaging post that has resonated with your target audience. Once they reach your website, you'll then need to convince them to generate a lead or purchase a product, using a combination of great design skills, and conversion rate optimisation.
Clicks are also one of the key social signal signals for SEO, which can give your site a lift in Google's rankings.
Shares
Shares are the gold-standard of engagement—if you want your users to engage with your content in one way, it would be sharing. When you consistently create shareable content, you're widening your social reach dramatically, which helps to grow your brand, as well as generate leads and sales.
Facebook comments
Facebook comments are the next best engagement metric to measure. Social media users can consume hundreds (even thousands) of posts a day, so if your content is engaging enough for them to stop and make a comment, you've done a good job.

Facebook reach, likes/reactions, and comments
Comments also tell the network that your content is engaging, which gives them an extra boost to get them in front of more people. As with shares, this can help you to achieve your goals, particularly if you're trying to turn customers into advocates or retain existing customers. If your customers are leaving positive comments on your posts and encouraging conversation, they're more likely to become flag-waving fans of your business.
Mentions
If brand growth is one of your social media goals, mentions are critical to track. If people are thinking about your company's products or services enough to tag you on social media, they're very much aware of your brand, and are helping to spread the word.
If your mentions are trending upwards on social media, you can safely say that your brand is growing, and your social strategy working. For this reason, they're a valuable social media metric.
Reactions are a useful social media metric
In social media, reactions are the emojis that a user can respond with for a post. Traditionally, these were "likes" for Facebook and LinkedIn, but they've since allowed you to react using a number of different emojis, which can be positive, negative, or neutral. Instagram has stuck solely with the heart emoji, which limits people to only positive reactions.
Reactions are important to keep an eye on because they reveal your audience's attitude towards your posts, which allows you to change your approach if needed.
3. Follower growth rate
Social media is effective because of its immense reach—roughly 3.5 billion people worldwide.1 Knowing how many of those people are your fans or followers is important, but what's more important is knowing how quickly you're acquiring them—your follower growth rate.
Your follower growth rate is another way to measure the effectiveness of your content. When you're producing engaging, relevant content across the various platforms, your follower growth rate should trend upwards. The growth can be exponential too——the bigger your audience, the more likely your content is to be seen on the social network, which grows your fanbase even more. Like a snowball rolling down a mountain, your follower numbers can eventually become huge.
Your follower growth rate should be measured monthly, with this calculation: (new followers for the month / monthly reach) * 100. It's most suitable for measuring brand growth and lead generation goals, but can also be useful for measuring customer advocacy and retention.
While follower growth rate is good to measure, try not to get too bogged down in it. The social media engagement metrics listed above are a more effective way to measure the success of social posts, because consistent shares, likes, and comments will grow your audience faster than anything else.
4. Facebook CTR
Facebook's CTR (click-through rate) is the percentage of people who clicked on the link in your post. It's calculated by dividing the number of impressions by clicks, and is another excellent indicator for how relevant and engaging your content is.
If you're using social media to generate leads and sales for your business, this is a critical social media metric to measure. People need to visit your website to generate leads, so if your CTR is high, you're more likely to be achieving your goal.
Average click-through rates change depending on industry, so it's important to identify the CTR for yours. Once you have this information, you will have a good idea of whether your content is encouraging enough clicks, and make changes if needed.
If your CTR is low, you can improve it by making your posts more focused, using language that resonates with your audience, or using eye-catching imagery.
For video posts that don't include links, you won't need to worry about measuring CTR.
The most important social media metrics—summary
That's it! By focussing on the most important social media marketing metrics, you will be able to quickly work out the effectiveness of your social media strategy and understand what to improve on to make it even better!
References
Blog image from Twin Design & Shutterstock
Want to know more about measuring your digital marketing performance? Check out our comprehensive guide to Every Digital Marketing Metric You Need for your business. This includes social media metrics, SEO metrics, ad metrics, and a whole lot more. We also dedicated an article to social media advertising metrics, if you'd like to take a look.