The secrets to optimising your SEO video
YouTube is also an important medium for online video marketing and advertising. YouTube processes more than 3 billion searches a month! See Mushroom Networks infographic chalk full of YouTube facts.
While optimised text is the bread and butter of SEO, you can improve the visibility of your company on Google by optimising your YouTube videos. Ranking your YouTube video is far easier as there's less competition compared to written web according to Quicksprout.
At this moment in time there isn't a specified ranking formula for YouTube rankings, there is however 4 main factors that appear to have some influence. These are:
Number of views

Video title

Video description

Video ratings; likes, dislikes
Here's a simple guide to optimising your videos in YouTube.
Video title:
Try and include important keywords related to your business in the title of your video. Google Keyword Planner is a free tool to help you find the best optimal keywords to use for videos, business blog articles and more! When you're inside the keyword tool ensure the exact keywords get at least 300 searches in Google.
Generally, Google seems to generate results based around these keywords:
Reviews – "Facebook Home Review"
Funny videos – "silly cats"
How to – " How to ride a horse"
Tutorials – "google analytics tutorial"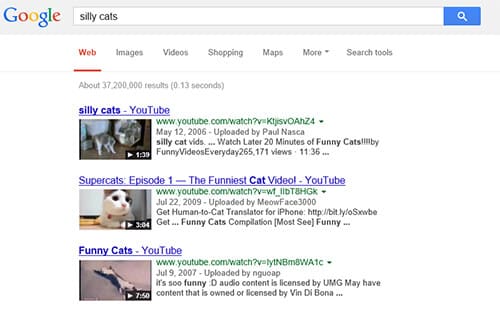 Video description:
Use relevant keywords and include a keyword-rich description of your video to enable search engines to index it and improve your rankings. Google and YouTube rely on text to decipher the video you uploaded.
Also, a descriptive text helps searchers understand the context of your video before they watch it.
Tip:
Backlinko has discovered that by adding a keyword at the beginning of your title it can give you a slight video SEO boost.
Here are some guidelines to incorporate in the description:
Include your keyword 3 to 4 times
Include your keywords in the first 25 words
Use synonyms to avoid keyword stuffing
Include external links such as your homepage
Tags:
Use key terms your users might be searching for to find your service or brand. This also helps Google and YouTube to understand what your video is about.
Get Views!
The number 1 factor in getting your video to rank in YouTube search engine is the number of views a video receives. Generally speaking the more views, the higher the rank in YouTube's search engine. Bear in mind the user must watch it for at least 8 seconds to be considered as a view.
Tips:
Encourage people to share your video on social media networks
Post your YouTube video to your Facebook page
Embed your video in your business blog or product pages
Use Google Adwords to promote views
Use YouTube view service such as Amazon Mechanical Turk
Use other video networks e.g. Vimeo
User engagement
Below is the list of other important signals that YouTube recognises:
User feedback in the form of comments
The no. of blogs that have posted your video
The no. of times your video shows up in user playlists
The no of likes your video received
Create a video sitemap
Submit a video sitemap to Google Webmaster Tools to ensure Google will index your video content. This is the simplest way for Google to find your video. Justin Hammack provides an easy to read video sitemap guide for Vimeo and YouTube.
Conclusion
While video isn't something new to the web, many small businesses overlook the power of SEO video and the tactics to boost SEO results. YouTube is the world's second largest search engine. According to Quicksprout it is easier to get your YouTube Video to rank on page 1 as oppose to getting your website to rank. It's a great way to promote your business, engage and entertain your customers. If you're looking for help with your video marketing, talk to the Media Heroes Brisbane corporate video production team today via the Hero Hotline on 1800 464 376 or via our contact form. If you already feel you know a thing of two, share your top SEO video tactics to get the top on Google and we'll spread the love!
Looking for more tips on video marketing? Check out this awesome article from Explainerd. It covers the basics of video marketing to help you get started.